Hippocratic Cancer Research Foundation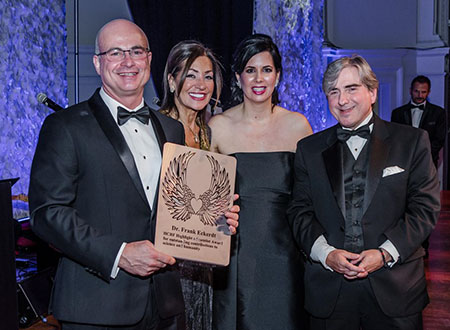 Often referred to as the "father of medicine" for his lasting contributions to the field, Hippocrates was revered as the ideal physician and admired as a teacher. The Hippocratic Oath is considered a rite of passage for doctors to this day, setting the highest ethical standards for compassionate care, respect for patient privacy and sharing scientific knowledge for the benefit of future generations. Hippocrates' approach to scientific discovery and empathetic care has inspired the establishment of the Hippocratic Cancer Research Foundation (HCRF).
Our Mission
Nearly half of all men and one-third of women in the United States will develop cancer during their lifetime. The mission of the Hippocratic Cancer Research Foundation is to discover, develop and implement effective new treatments for patients with cancer by advancing groundbreaking research. Our goal — to eliminate cancer and save lives — is ambitious but achievable.
The Hippocratic Cancer Research Foundation's diverse network of donors will provide the philanthropic support to fund interdisciplinary research teams at the Robert H. Lurie Comprehensive Cancer Center of Northwestern University, empowering their world-class investigators to join forces and address the most urgent questions in the fields of cancer biology and oncology in daring and innovative ways. By investing in "out of the box" research, with an emphasis on translational cancer research, the HCRF will accelerate and heighten the impact of scientific discoveries.
Watch a video to learn more about the HCRF mission.
View a presentation by Leonidas Platanias, MD, PhD on Recent Advances in Cancer Research and Therapeutic Approaches.
The Wings to Cure Annual Gala
The Hippocratic Cancer Research Foundation's fourth annual gala, The Wings to Cure, took place on Saturday, November 16, 2019. This black-tie event raised vital funds to accelerate high-impact translational research at the Lurie Cancer Center.
2019 Gala Photo Gallery 2019 Gala Video 2018 Gala Photo Gallery
 Executive Board
Mrs. Eleni Bousis, Chair
Mrs. Susana Alberti de Berdakin★
Mr. & Mrs. Kosta Apostolopoulos★
Mr. & Mrs. Elias Boufis★
Mr. George Bousis★
Mr. & Mrs. Gus Danos
The Honorable & Mrs. Roger Fein★
Mr. & Mrs. Themis Galanis★
Mr. Tommy Kane
Mr. Peter G. Karahalios★
Mr. Anton & Dr. Michele Marano, DN★
Mr. & Mrs. Dean Marousis★
Mr. & Mrs. Joe McMahon★
Doctors Louis & Lisa Palivos★
Mr. Alexander Pissios★
Mr. Peter Rahal★
Mr. Mark Roberts★
Mr. & Mrs. Alex Samoylovich★
Mr. Rishi Shah★
Mr. Ilan Shalit★
Mrs. Rozalia Vologin★
 Scientific Advisory Board
Leonidas C. Platanias, MD, PhD, Chair
Jessica Altman, MD
Angela C. Argento, MD★
Angeline N. Beltsos, MD★
Angelo A. Costas, MD
Frank D. Eckerdt, PhD
Stilianos Efstratiadis, MD★
Olga Frankfurt, MD
William J. Gradishar, MD
Maha Hussain, MD
John A. Kotis, MD★
Nicole Liadis, PhD★
Dino Mantis, DDS★
Michele Marano, DN★
Dimitrios Nikas, MD★
Lisa Palivos, MD★
Christ J. Pavlatos, MD★
Amanda Saratsis, MD★
Roger Stupp, MD
Maria (Lina) Tsoukas, MD, PhD★
 Founding Board
Mr. Chris Atsaves
Mr. Diego Berdakin
Mr. & Mrs. John Bodine
Mr. & Mrs. Nikolaos Bonatsos
Mr. & Mrs. Gerard Borys
Mr. & Mrs. Jimmy Bousis
Mr. & Mrs. Tom Cronin
Ms. Inese Driehaus
Mr. Robert S. Fakhouri, Esq.
Ms. Kristine Farra
Greek American Restaurant Assoc.
Mrs. Susan Gutfreuned
Mr. & Mrs. John Harris
Ms. Candace Jordan
Mr. & Mrs. John Kampas
Mrs. Cheri Kaufman
Mr. & Mrs. Michael Kosmidis
Dr. & Mrs. John Kotis
MEP, Mrs. Elena Kountoura
Mr. & Mrs. Jim Logothetis
Mr. Angelo Loumis
Ms. Annasophia Loumis
Mr. & Mrs. John Manos
Mrs. Filisa Mantas
Dr. Christina A. Mantis †
Ms. Stella-Alexia Mantzaris
Mrs. Kristina McGrath
Mr. Jay Michael †
Mr. & Mrs. Gregory Palivos
Mr. & Mrs. Jason Pritzker
Mrs. Vonita Reescer
Mr. & Dr. Alexandros Saratzis
HRH Katherine of Serbia
Mr. & Mrs. Tom Sianis
Mrs. Eleni Tzotzolis
Mr. & Mrs. Haralambos Tzotzolis
Mrs. Marianna Vardinogiannis
Mr. Johnathan Weigand
 Founding Committee
Mr. Evangelo Bousis
Ms. Victoria Bousis
Dr. & Mrs. George Bovis
Mr. & Mrs. Lou Canellis
Mr. & Mrs. Jeffrey Cantalupo
Mr. & Mrs. Alex Dana
Mrs. Anna Davlantes
Ms. Maria Dollas
Mr. Michael George
Ms. Pat Gerbanas
Ms. Kathryn Kaporis Gianaras
Ms. Susanna Homan
Ms. Bonnie Hunt
Mr. Nick Kavadas
Mr. Christos Kiosses  
Mrs. Eleni Kouimelis
Mr. & Mrs. Jonathan Man
Mr. Alexios Milioulis
Mr. Dimitri Minakakis
Mr. Matt Norkett
Mrs. Anna Gonis O'Connor
Ms. Anastasia Palivos
Mr. & Mrs. Peter Palivos
Ms. Katerina Panagopoulos
Mrs. Julie Platanias
Mr. & Mrs. Mark Psaltis
Ms. Julie Reeder
Mr. & Mrs. Scott Seaman
Dr. & Mrs. George Skarpathiotis
Mr. Constantine Stamatakos
Ms. Vera Tkach
Mrs. Maria Daskalakis Zervas
 Ambassadors
Mr. & Mrs. Dean Ademopoulos
Ms. Sabrina Auer★
Dr. Garry Cooper
Dr. Jill Cotseones
Mr. & Mrs. Patrick Daley
Mr. Dimitrios Drossos     
Mr. Jad Farra
Ms. Leah Farra
Ms. Stella Frenkel
Mr. Steven Galanis
Dr. Agni Kakouri
Fr. & Presv. Chris Kerkeres★
Ms. Katina Kopsias
Mr. & Mrs. George Maglares
Ms. Lainey Manos
Ms. Madeline Merageas
Ms. Doretta Mistras
Mr. Nick Pissios
Ms. Martina Platanias★
Mr. Ryan Preuett
Mr. Michael Psaltis
Mr. & Mrs. Kristopher Robert
Mr. & Mrs. Taso Tzotzolis★
Ms. Jade Williams
Ms. Dalila Youkhana
Back to top