Director of Global Health - Lifang Hou, MD, PhD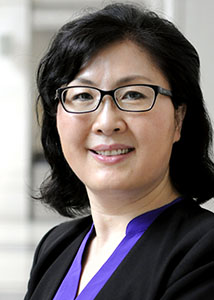 Lifang Hou, MD, PhD, is Chief of Cancer Epidemiology and Prevention in the Department of Medicine, Director of the Center for Global Oncology, and Director of Global Health at the Lurie Cancer Center.
The director of Global Health provides leadership in coordinating and expanding global alliances and partnerships of the Lurie Cancer Center and facilitates the global research efforts of its members. In coordination with Northwestern Medicine's International Patient Services Department, this strategic position expands referring physician relationships from overseas as well as patient referrals.
Hou's research focuses on identifying molecular biomarkers that may predict cancer risk, progression and mortality in various populations, thus providing potential tools for early cancer detection and prevention. She has collaborated with scientists around the world to study populations within and beyond the United States, including Africans, African-Americans, Asians, Caucasians and Latinos, and is currently expanding her research to the Arabic populations as well.
Hou was recently named a member of the Blue Ribbon Panel, a working group of the National Cancer Advisory Board that advises the National Cancer Institute.