Head of Radiation Oncology – Bharat Mittal, MD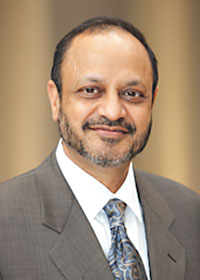 Bharat Mittal, MD, is chair of the Department of Radiation Oncology at Northwestern University Feinberg School of Medicine. In addition to his clinical focus on cancers involving the brain, blood (leukemia, lymphomas), head and neck, skin and thyroid, Dr. Mittal has an active research program and is deeply involved in educating and mentoring students. His research interests include use of innovative treatment modalities for head and neck cancer in order to obtain better tumor control and decrease toxicity of treatment.
Dr. Mittal is the author and co-author of more than 200 articles, book chapters, and abstracts.
He is active in several professional organizations, including the American Society for Radiation Oncology (ASTRO) and the Society of Chairmen of Academic Radiation Oncology Programs (SCAROP).