Associate Director, Shared Resources - Milan Mrksich, PhD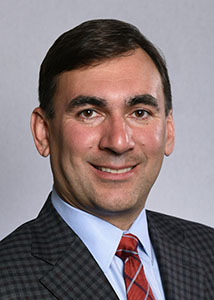 The associate director for Shared Resources is appointed by and reports to the director of the Lurie Cancer Center and will be responsible for oversight of the Lurie Cancer Center's research shared resource facilities. Currently, 15 shared resource facilities are supported by the Lurie Cancer Center, including the Center for Advanced Microscopy, Medicinal & Synthetic Chemistry Core, Targeted Transgenic & Mutagenesis Laboratory and the High Throughput Analysis Laboratory.
Milan Mrksich, PhD, is the Henry Wade Rogers Professor of Biomedical Engineering, Chemistry and Cell and Molecular Biology, with appointments in the McCormick School of Engineering and Applied Science, Weinberg College of Arts and Sciences and Feinberg School of Medicine. In addition, Mrksich is director of the Center for Synthetic Biology, making Northwestern University one of the country's top destinations in the field for research and education.
As associate director for Shared Resources, Mrksich assesses existing needs and priorities and facilitates the development of new shared facilities to support the research initiatives of Lurie Cancer Center investigators. In addition, he provides leadership for the development of innovative research tools and technologies.
Mrksich received his PhD in organic chemistry from the California Institute of Technology and was a Howard Hughes Medical Institute Investigator from 2005 to 2013. With laboratories on both the Evanston and Chicago campuses of Northwestern University, Mrksich's research combines synthetic chemistry with materials science to study important problems in cell biology. He is a co-founder of Arsenal Medical Inc., a medical devices company that has a stent product in clinical trials, and recently co-founded SAMDI Tech, an early-stage technology company based on his new platform for analyzing biochemical reactions.
Back to top