Associate Director, Innovation – Jindan Yu, MD, PhD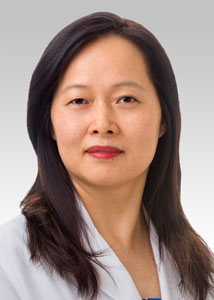 As Associate Director for Innovation, Jindan Yu, MD, PhD, oversees the development and implementation of innovative, evidence-based programs and initiatives within the Lurie Cancer Center.
Dr. Yu's laboratory focuses on understanding the genetic and epigenetic pathways to prostate cancer, using integrative genomic approaches to decipher the molecular mechanisms underlying cancer progression, and to identify novel targets for therapeutic intervention. A professor of Medicine (Hematology and Oncology) and Biochemistry and Molecular Genetics, Yu is also co-leader of the Translational Bridge initiative at the Lurie Cancer Center.