Connecting with Nature, Cancer Survivors and Myself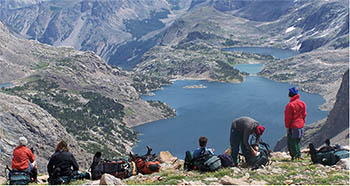 By Amanda Gregor: Breast cancer survivor since 2011
Whoever thinks that they'll face a life threatening illness in their 20s?  I never thought it would be me! At 27 years old I went in for a routine gynecological exam and asked my doctor to feel a spot on my breast.  On May 25, 2011 I heard the news - "Yes, Amanda, your biopsy came back positive for breast cancer." From there I went through over a year of treatment that seemed to take over my body. My life was altered, and by the domino effect so were the lives of my family and friends.   
I discovered that when you're sick, some people don't know how to react. I had to learn to be patient and deal with everyone else's way of coping with my illness. That, in itself, was exhausting... As much as people tried to relate, no one really could. I had a double mastectomy, fertility preservation, chemotherapy, multiple reconstructive surgeries, and on top of all of that I was a single woman without kids.
How many people could really understand?  My best excuse and escape was to play the cancer card, and, I did; especially when I didn't want to deal with people. But, who was I going to talk to? A stuffy psychologist for a 1 hour session? Nope, not for me.  I tried to find a support group for young breast cancer survivors. However, I didn't fit into the mix. I wasn't in my senior years. I wasn't a mom. I wasn't married. Out in the suburbs of Chicago, I didn't find anyone. 
After diving into the oncofertility world at Northwestern, I learned about True North Treks (TNT) from Kristin Smith, the Robert H. Lurie Comprehensive Cancer Center of Northwestern University's oncofertility patient navigator. It was an opportunity to leave life and actually meet other young cancer survivors who went through what my body had gone through. I'd have the opportunity to meet people who know how to handle the pitying or even awkward responses from people who just don't know what to do. I'd have the opportunity to experience nature and how beautiful the land we live in really is.
I was so thankful to be selected to go on a Trek with TNT to Montana in September of 2012. I met other survivors who could relate to 'chemobrain,' going through 'chemopause' (menopause), being so tired--but still overcome with insomnia, and how even the simple things, like going to the bathroom, can be painful. On my trek I also met another woman who had gone through breast reconstruction and understood how it really changes your own body image. But, we were both thankful to be alive.
I remember climbing our summit. It was a hike we did in silent meditation. We left at sunrise and were able to appreciate what peace really was. When I made it to the top I was so taken back by the experience. I sobbed. I sobbed with tears of mixed emotions - from happiness to be alive, to a scared feeling of hope that I never have to be sick again - with other survivors. They didn't gawk at me with the pitying eyes I had encountered since I was diagnosed. They encountered their own peace.
I truly thank all of my medical staff, family and friends. I especially thank TNT for giving me the opportunity to restore my own 'self.' Thank you David Victorson. Thank you Gwen Victorson. Thank you Lars. Thank you Kristin Smith.
"Life is too short, and the world is too big." –Lars
True North Treks (TNT) is a non-profit organization dedicated to enriching the lives of adolescent and young adult cancer survivors during their transition or "re-entry" from a cancer diagnosis and treatment to survivorship. Founded and led by David Victorson, PhD, an Associate Professor in the Department of Medical Social Sciences at Northwestern University's Feinberg School of Medicine, TNT uses short term experiences in nature focused on contemplative and outdoor leadership activities to help young adult cancer survivors develop "survival skills for survivors." Victorson is also a member of the Lurie Cancer Center's multidisciplinary group working to promote clinical and research initiatives for our young adult cancer patients. Space is still available for some 2013 Treks! Learn more
Back to top