Lurie Cancer Center Named Center of Excellence in AYA Oncology
One of only two cancer centers recognized as a leader in AYA cancer care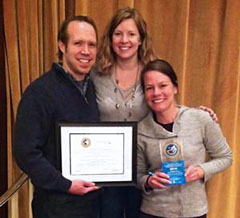 John Salsman, Kristin Smith, and
Beth Young accept the
AYA Center of Excellence Award.
The Robert H. Lurie Comprehensive Cancer Center of Northwestern University has been designated a Change it Back National Center of Excellence in Adolescent and Young Adult Oncology. The Lurie Cancer Center is one of only two cancer centers in the nation to hold this honor, recognizing them as a leader in the field of Adolescent and Young Adult (AYA) cancer care.
The award was presented in Cleveland, Ohio at Connect the Dots, the annual conference of Critical Mass / The Young Adult Cancer Alliance. A member of Critical Mass since 2009, the Lurie Cancer Center formed a multidisciplinary working group to improve standards of care and outcomes for patients diagnosed with cancer between the ages of 15 and 39.
"One of our primary goals is providing AYA cancer survivors with the tools to become effective self-advocates," said Lurie Cancer Center Clinical Psychologist Stacy Sanford, PhD, who founded the working group. "AYAs may encounter a range of concerns specific to their development stage including difficulties with reentry into school or the workforce, insurance coverage, infertility or parenting through cancer, sexual health, relationships or dating, emotional distress, or late effects from treatment including risk for secondary malignancies. Programs offering support and information about the unique challenges they may encounter, help prepare AYAs to ask tough, but critical questions before, during and after cancer treatment."
Nearly 72,000 AYAs are diagnosed with cancer each year. It is widely known that compared with younger and older age groups, survival rates for AYAs diagnosed with cancer have seen little or no improvement in more than two decades. Change it Back's Centers of Excellence Program was established to encourage leaders in the field of AYA oncology and cancer services to join efforts in building a national movement to improve outcomes and elevate the quality of services available to the AYA population. Although institutions may vary how and when such services are appropriately delivered along the continuum of care, experts agree such interventions are central to jump starting stagnating survival rates.
Watch this video to see why AYA cancer care is so important.
Contact Stacy Sanford for information about ways to become involved with the AYA oncology program.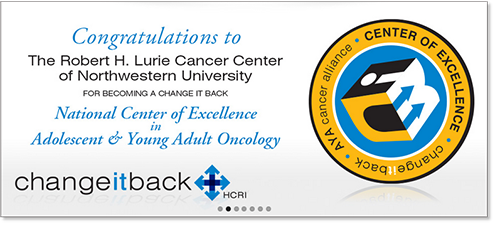 Back to top