Celebrating 5 Years of Progress at the Northwestern Brain Tumor Institute
"If you can spare someone the loss I experienced, then I am honored to be in your presence," said Rafer Weigel, who was the guest emcee at the Northwestern Brain Tumor Institute 5th Anniversary Benefit Dinner on October 4.
The ABC 7 Chicago News sports reporter lost his father, Tim Weigel, to a brain tumor in 2001. Tim Weigel was a popular Chicago sportscaster at ABC 7 in Chicago for 17 years. "I lost faith when my father died. But when I walked through the halls of Northwestern and saw what they're doing here to aggressively combat this disease through the Brain Tumor Institute, I regained some of that lost faith. I didn't think that was possible."
5th Anniversary Benefit Dinner
More than 450 guests attended Minds Matter, now in its 5th year, raising over $400,000. "Tonight symbolizes how far we have been able to come in the five years since the Institute was established, and celebrates the lives of the patients and families that we are here to serve," shared Jeffrey J. Raizer, MD, Professor of Neurology and Hematology/Oncology at the Feinberg School of Medecine and co-director of the Northwestern Brain Tumor Institute (NBTI).
James P. Chandler, MD, Lavin/Fates Professor of Neurological Surgery and co-director of the NBTI, continued: "We are pleased to announce that, as of this evening, the Minds Matter event has raised over $3 million in total funds over five years to support breakthrough brain and spinal tumor research and patient care at Northwestern."
Echoing the theme of the evening's festivities, event co-chairs Anne Barlow Johnston and Mary M. Burns encouraged and emboldened those in attendance: "It's time to make time for what matters. It's time to find a cure."
Watch the 2013 Minds Matter video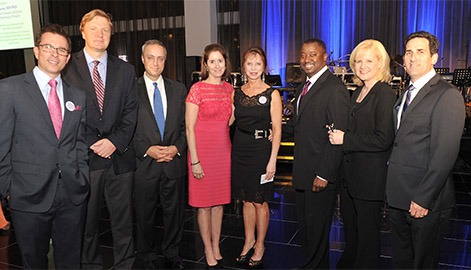 (L to R) Minds Matter emcee Rafer Weigel, Dimitri Krainc, MD, PhD, chair of the Department of Neurology, Andrew Parsa, MD, PhD, chair of the Ken and Ruth Davee Department of Neurological Surgery, event co-chairs Mary Burns and Anne Barlow Johnston, NBTI co-director James P. Chandler, MD, special guest Bonnie Hunt, and Jeffrey J. Raizer, MD, NBTI co-director
Philanthropy Making a Difference at the Forefront of Science and Support
Thanks to the steadfast and generous support of patients, families, and friends, NBTI researchers are developing basic and translational studies that may lead to promising new avenues for treatment; including between 10 and 15 active clinical trials at any given time. Philanthropy has also made it possible for the NBTI to recruit leading experts in brain tumor research, including Shi Yuen Cheng, PhD, and mathematical neuro-oncologist, Kristin Rae Swanson, PhD, who joined the NBTI in 2012.
In addition, NBTI patients and families benefit from resources and support to help them meet the challenges of living with a brain or spinal tumor. The Patient and Family Assistance Fund, created in 2012, helps qualified families cover out-of-pocket costs for care. Northwestern's Brain Tumor Support Group serves nearly 300 patients and caregivers each year.
About the NBTI
A collaboration between Northwestern Memorial Hospital, Feinberg School of Medicine, and the Robert H. Lurie Comprehensive Cancer Center of Northwestern University, the NBTI is dedicated to accelerating efforts to advance research breakthroughs and to improve treatment, outcomes, and quality of life for patients with brain and spinal tumors. As the highest ranked neurology program in Illinois, Northwestern serves and treats approximately 7,000 brain and spinal cord tumor patients each year.
Learn more about the Northwestern Brain Tumor Institute.
Back to top