CURE Program: Another Successful Summer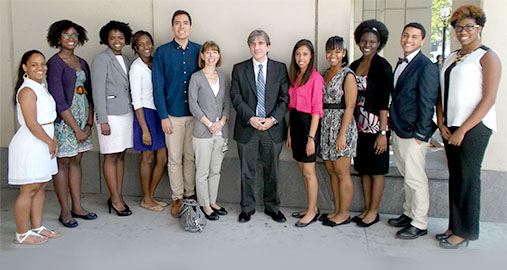 The summer of 2014 marked the 16th year that the Lurie Cancer Center's CURE (Continuing Umbrella of Research Experience) Program enabled undergraduate students to experience firsthand what it is like to work in a cancer research laboratory. 
Ten students were selected--from an applicant pool of over 150 majoring in the biological sciences--to spend eight weeks conducting cancer research in the laboratory under the guidance of a Lurie Cancer Center faculty mentor.  In addition to their lab training, the students met every Friday to hear a seminar on various topics in cancer research and receive career counseling. 
At the end of the program, each student gave an oral PowerPoint presentation of their results to faculty and participating lab members. "It is very rewarding to watch the students' growth over the course of the summer. At first, the students are scared and very hesitant, but at the final presentations they are confident and enthusiastic. In fact, several students have expressed an interest in continuing the research at their own institutions or at Northwestern during winter break or next year," said Robin Leikin, PhD, CURE Program Director. The CURE students will continue their undergraduate education at Brown University, Northwestern University, Spelman College, Hampton University, Harvard University, Boston University, University of Wisconsin, Johns Hopkins University and the University of Houston.
The CURE Program is supported by a supplement grant from the National Cancer Institute. 160 students have participated since Leikin, a Research Assistant Professor at the Lurie Cancer Center, first organized the program at Northwestern in 1999.
Back to top