Special Lectures Pay Tribute to Chung Lee
The Lurie Cancer Center hosted the annual Chung Lee Special Lecture on October 9, paying tribute to Chung Lee, PhD, Professor Emeritus in Urology at Northwestern University Feinberg School of Medicine.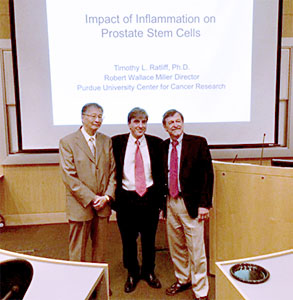 Timothy Ratliff, PhD, Professor of Comparative Pathobiology and Robert Wallace Miller Director of the Purdue University Center for Cancer Research, was the featured speaker. Dr. Ratliff is actively involved in research focused on immunotherapy studies using prostate and bladder cancer models to stimulate antitumor responses and the regulation of antitumor immunity. His presentation was titled "Impact of Inflammation on Prostate Stem Cells."
"This was the third of our annual lectures to recognize Chung Lee and his remarkable contributions to the Lurie Cancer Center. It was an honor to have Dr. Ratliff as our distinguished guest this year," said Leonidas Platanias, MD, PhD, Director of the Lurie Cancer Center.
Donald Coffey, PhD, Distinguished Professor of Urology at Johns Hopkins University School of Medicine, was the inaugural speaker in the fall of 2012. Leland Chung, PhD, Professor of Medicine and Director of the Uro-Oncology Research Program at the Samuel Oschin Comprehensive Cancer Institute of Cedars-Sinai Medical Center, presented the second annual lecture at the Lurie Cancer Center in 2013.
Back to top