A Message From the Interim Director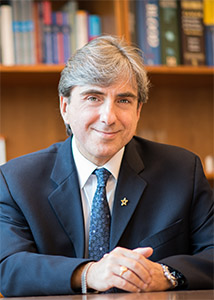 Exceptional opportunities for interdisciplinary research and collaboration are among the Robert H. Lurie Comprehensive Cancer Center of Northwestern University's greatest strengths. These partnerships fuel the efforts of our clinicians and scientists, leading to dramatic growth across a wide range of programs and services.

I am looking forward to the anticipated growth of our basic science research programs with the addition of new key recruitments and collaborations. We are developing innovative programs to bridge the translation of basic and clinical research to personalized medicine and improved clinical care. In addition, we are making plans for a major expansion of our clinical operations.

The Lurie Cancer Center was proud to receive our highest rating from the National Cancer Institute (NCI) in 2013, an overall "Outstanding" on the competitive renewal of our Cancer Center Support Grant. This award reflects the high quality of our programs, education and community outreach.

The signs of continuing progress surround us, including plans for:
Feinberg School of Medicine Biomedical Research Building
Faculty Expansion
New Department of Cancer Biology
New Department of Biochemistry
Center for Personalized Cancer Therapy
Continued Expansion of Clinical Facilities and Affiliated Practices
Development of specialized institutes at the Lurie Cancer Center
We are grateful to all of you who make it possible for us to continue moving forward, bringing research discoveries from the Lurie Cancer Center to our patients and the community.
Leonidas Platanias, MD, PhD
Interim Director
Robert H. Lurie Comprehensive Cancer Center of Northwestern University
Back to top