Cancer Survivors' Celebration Walk & 5K: One for the Books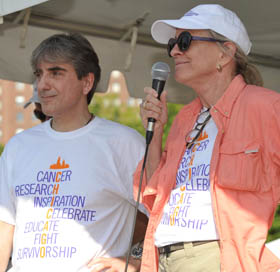 Leonidas Platanias, MD, PhD, Interim Director of
the Lurie Cancer Center, and Ann Lurie
count down for the start.
On Sunday, June 1, 2014, more than 4,200 cancer survivors and supporters joined together in Chicago's Grant Park to celebrate survivorship—making the Robert H. Lurie Comprehensive Cancer Center of Northwestern University's 21st Annual Cancer Survivors' Celebration Walk & 5K one for the record books.
The morning that began with gorgeous blue skies and sunshine just kept getting better! Highlights included:
STAR Program survivor Evan Bartlett, three months old when he was first diagnosed with leukemia, launched "Ride the Battle." Now 21 years cancer-free, he is making the cross-country bike trek and Web series to show that life can be beautiful after cancer.
Leukemia survivor Dana Severson talked about meeting the donor who saved her life, inspiring nearly 100 participants to join the Be the Match Registry throughout the morning.
The 5K race, added to the Cancer Survivors' Celebration in 2013, was sold out. View race results here.
LIVESTRONG President / CEO Doug Ulman, a three time cancer survivor and globally recognized cancer advocate, announced the 5K start, and then joined the race with the Ulman Cancer Fund's first Chicago Cancer to 5K team.
"Bob would be so proud today," said Ann Lurie as she joined Lurie Cancer Center Interim Director, Leonidas Platanias, MD, PhD, on stage to send off the 21st Cancer Survivors' Walk. Lurie described the launch of "We Will. The Campaign for Northwestern Medicine," and its potential to advance research at the Lurie Cancer Center. She encouraged the crowd to get involved and "help get this done. Talk to your colleagues and friends. Each one of you can be a philanthropist." Support the Lurie Cancer Center
"Faces of Cancer" banners lined the Walk and 5K route. Each individual portrait represented all of the cancer survivors being honored at the event. Two of this year's "Faces," prostate cancer survivor Kwesi Ronald Harris and throat cancer survivor Jason Chan, shared their stories. "I am very grateful to be standing here, healthy, happy and strong. I not only just survived it, now I am surpassing it and making it my daily ambition to thrive after cancer," said Chan.
Jenna Benn Shersher, first helped us "Twist Out Cancer" four years ago, after completing her treatment for Gray Zone Lymphoma. Since then it has become one of the high points of our National Cancer Survivors Day celebration.
Cancer survivors listened to Lupe Fiasco's moving new single, "Mission," as they came together for the annual group photo. The hip-hop artist first shared the powerful anthem with some patients and staff during a recent visit to the Lurie Cancer Center before its release. Written to "empower those facing cancer, revere cancer survivors and remember those who have passed away due to cancer-related illnesses," "Mission" helped the 2014 Cancer Survivors' Celebration Walk & 5K end on just the right note. Hear "Mission" and learn more at  WeAreOnAMission.org
View 2014 Cancer Survivors Celebration Walk & 5K photos here
See you Sunday, June 7, 2015 at the
22nd Annual Cancer Survivors' Celebration Walk & 5K!
Back to top