Northwestern Receives $800,000 from AVON 39 The Walk to End Breast Cancer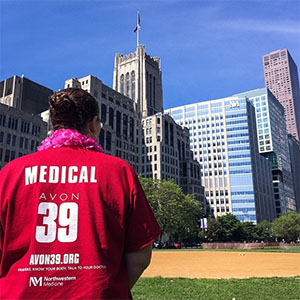 The 13th annual AVON 39 The Walk to End Breast Cancer, formerly known as the Avon Walk for Breast Cancer, continued in Chicago June 6-7, raising $5 million to accelerate breast cancer research; improve access to screening, diagnosis and treatment; and educate people about breast cancer.
AVON 39 Chicago – the fourth of seven events across the country to unveil the new theme #Powerof39 – drew more than 2,200 participants from 43 states and Washington, D.C., including 296 breast cancer survivors and 334 men.
Two grants totaling $800,000, will support research and programs at Northwestern Medicine and the Robert H. Lurie Comprehensive Cancer Center of Northwestern University. The first grant of $500,000 to support access to care through the Erie Family Health Center and Northwestern Memorial Hospital, as well as research projects studying obesity as a risk factor for breast cancer.  The Lurie Cancer Center also received a grant of $300,000 to support a clinical trial led by Cesar Santa-Maria, MD, studying ways to use a patient's immune system to fight metastatic breast cancer. 
Chicago AVON 39er and Lurie Cancer Center patient, Angie Lopez, shared her moving story and battle with breast cancer to fellow participants, volunteers, family and friends. "So much in life is unexpected. I never expected to leave my hometown of Chicago to start a new life in Las Vegas, only to find out that I had breast cancer. I never expected that my sister Renee would also be diagnosed a few days before I was. And I certainly did not expect that after undergoing a double mastectomy, my diagnosis would turn into stage three lobular cancer," said Lopez. "But my breast cancer diagnosis has brought me unexpected blessings. I am now closer with my family in Chicago, and I was lucky to undergo chemotherapy treatment at Northwestern-an AVON 39 beneficiary. Today, I crossed the finish line a day after my birthday, and I can't think of a better way to celebrate the unexpected, because it has been better than I ever imagined."
Back to top