Local Family Raises Money in Support of Cancer Research at the Lurie Cancer Center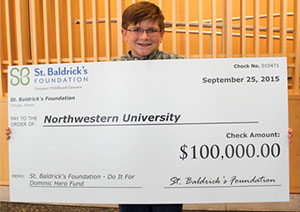 On September 25, the Lurie Cancer Center received a gift from Anna and Ernie Cairo and several family members to fund crucial research in acute lymphoblastic leukemia (ALL). Anna and Ernie Cairo, together with several members of their family, presented a check for $100,000, in honor of their eldest son, Dominic. The gift was made through St. Baldrick's Foundation, the largest private funder of childhood cancer research grants in the world.
The Cairo family established the "Do It For Dominic" St. Baldrick's Hero Fund in 2009 in honor of Dominic Cairo, Anna and Ernie's eldest son. Dominic was diagnosed with non-Hodgkin's lymphoma in August 2008 at the age of five, and only two days before starting kindergarten. He passed away a few days after finishing second grade. Since creating the fund, the Cairo family and their community have raised $173,000 in memory of Dominic.
St. Baldrick's Foundation—a volunteer-powered organization—works closely with leading pediatric oncologists to determine the most promising research. The foundation then either funds this research directly or creates opportunities for volunteers to raise money in order to make the greatest impact for children with cancer. Every grant funded by the St. Baldrick's Foundation is for childhood cancer research.
Jonathan D. Licht, MD, former chief of the Division of Hematology/Oncology and Johanna Dobe Professor of Hematology/Oncology at the Feinberg School of Medicine, received the check supporting his research of aberrant gene regulation and repression as a cause of hematologic malignancies, including acute promyelocytic leukemia, multiple myeloma, and myeloproliferative neoplasms. He and his colleagues are focused on developing small molecules and novel strategies to revert abnormal gene regulation and treat diseases like acute lymphoblastic leukemia, which is the most common type of childhood cancer.
Postdoctoral fellow Jon Oyer, PhD, who has been partnering with Dr. Licht on the research supported by this grant, shared some insight into their latest findings in the field of gene regulation. "We designed a CRISPR gene-editing system to disable a mutant gene that often contributes to relapse of acute lymphoblastic leukemia. When we used this system in cell lines established from pediatric patients, normal patterns of gene regulation were restored and cells grew at a slower rate. The specific changes in gene regulation reveal important pathways and potential targets that can be exploited to reduce the recurrence of leukemia after initial treatment."
He and Dr. Licht then gave a tour of their laboratory facilities. Ryan—Anne and Ernie Cairo's son and the late Dominic's younger brother—particularly enjoyed looking at cells through a microscope.
"We are extremely grateful to the Cairo family and St. Baldrick's for this impactful gift," said Dr. Licht. "It will help us to continue our research into this devastating disease and provide hope for future generations of children and their families."
Back to top