Chung Lee Lectureship 2015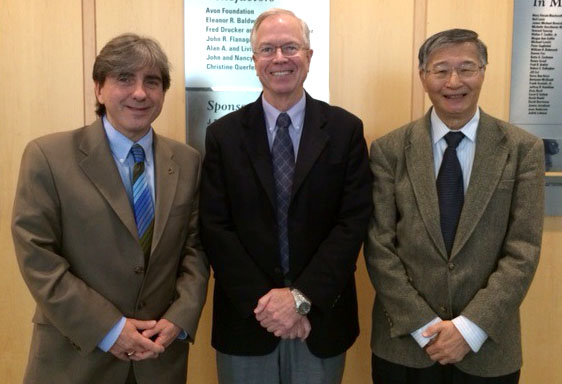 Leonidas Platanias, Donald Tindall, and Chung Lee
On Thursday, October 1, Donald Tindall, PhD, gave the fourth annual Chung Lee Lecture, held to honor Chung Lee, PhD, Professor Emeritus in Urology at the Feinberg School of Medicine.
The title of Dr. Tindall's presentation was "The Roe of the Androgen Receptor in Prostate Cancer." Previous speakers have included Donald Coffey, PhD, Leland Chung, PhD and Timothy Ratliff, PhD.
"These annual lectures are an opportunity to recognize Chung Lee and his many contributions to the Lurie Cancer Center and the field of prostate cancer research," said Lurie Cancer Center Director, Leonidas Platanias, MD, PhD.
Back to top