Greek Americans Against Breast Cancer and Plato Academy Donate Event Proceeds to Lurie Cancer Center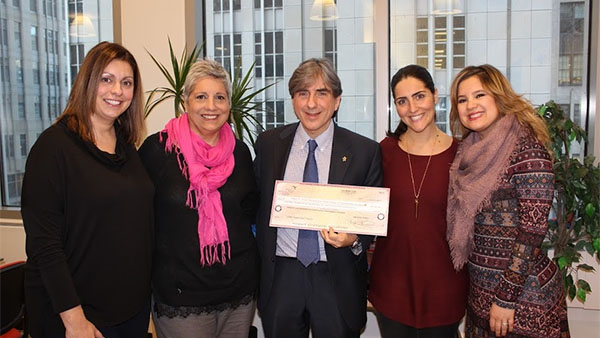 From left to right: Vasilike Bolos, Marianthi Koritsaris, Dr. Platanias, Filisa Mantas, and Gina Gianakopoulos.
On December 4, 2015, Greek Americans Against Breast Cancer (GAABC), a dedicated organization within Plato Academy, presented a check to Leonidas C. Platanias, MD, PhD, Director of the Robert H. Lurie Comprehensive Cancer Center of Northwestern University and the Jesse, Sara, Andrew, Abigail, Benjamin, and Elizabeth Lurie Professor of Oncology, in support of breast cancer research. The check represented the proceeds from the group's event "50 Shades of Pink," which took place on October 23 to raise awareness and these crucial funds for research. The Casino Night-themed event honored 50 breast cancer survivors and included several faculty speakers from Northwestern University Feinberg School of Medicine.
Marianthi Koritsaris, the principal of Plato Academy and a cancer survivor, attended the check presentation with several others. She is credited with inspiring Plato Academy staff members, students, and parents to join together and make a difference. Eleni Moutidis, the founder of GAABC, was unable to attend the event. Also in attendance at the formal check presentation with Dr. Platanias were other members of the GAABC board, including Vasilike Bolos, Filisa Mantas, and Gina Gianakopoulos. Committee member Ioanna Tzotzolis was unable to attend.
Back to top