Hippocratic Cancer Research Foundation to Support Groundbreaking Research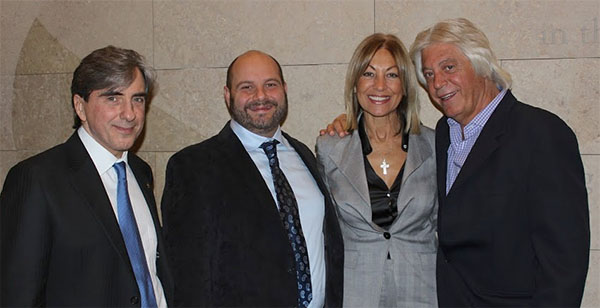 On November 13, the Hippocratic Cancer Research Foundation (HCRF) hosted an inspiring and informative meeting at the Robert H. Lurie Medical Research Center to introduce the HCRF's leadership and mission.
Eleni Bousis, Chair of HCRF's Founding Board, shared how a clinical trial that delivered a life-saving new treatment fueled her passion for providing philanthropic support to fund innovative research at the Lurie Cancer Center, and her personal commitment to "save lives and make a real difference to patients and families" by creating the HCRF.
The Hippocratic Cancer Research Foundation's mission--to discover, develop and implement effective new treatments for patients with cancer by advancing groundbreaking research—reflects Hippocrates' approach to scientific discovery and compassionate care.
Lurie Cancer Center Director and Director of HCRF's Scientific Advisory Board, Leonidas Platanias, MD, PhD, highlighted some of the Lurie Cancer Center's high impact translational research initiatives; applying knowledge gained from discoveries in our laboratories to develop new ways to prevent, diagnose and treat cancer. Dr. Platanias thanked Eleni Bousis for her vision and determination to provide "the philanthropic support to go after cancer as a whole."
As the meeting ended, Ms. Bousis expressed her confidence in the expertise of Dr. Platanias and the Lurie Cancer Center's dedicated physician-scientists, her gratitude for the friends and supporters who filled the room, and her heartfelt belief that "with a handful of people we can shake the world!"
View more photos from the meeting on Facebook
Back to top