Lynn Sage Cancer Research Foundation Luncheon Raises Over $1M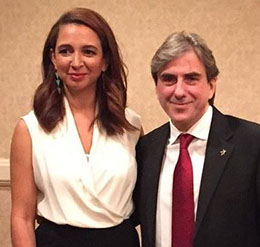 Maya Rudolph and Lurie Cancer Center Director,
Leonidas Platanias, MD, PhD
October 15th's Fall Benefit Luncheon marked the Lynn Sage Cancer Research Foundation's (LSCRF) 30th anniversary raising more than $1.2 million to advance innovative research, educational programs and patient care initiatives for breast cancer patients at the Robert H. Lurie Comprehensive Cancer Center of Northwestern University and Northwestern Memorial Hospital. The Lynn Sage Comprehensive Breast Center is the largest program of its kind in the Midwest, with over 70,000 patient visits annually.
Actress and comedian, Maya Rudolph, was the keynote speaker at the event, celebrating the "Bright Legacy, Brilliant Future" of LSCRF. To honor the important milestone, the luncheon was chaired by Meredith Soren Freese, Allison Zisook Goldstein and Stephanie Lieber— daughters of three of the founding members of LSCRF.
"Thirty years ago, my mother and 17 of her friends founded the foundation in honor of their friend Lynn Sage, who lost her battle with breast cancer at age 39. To date, we have raised over $31 million, created 50 fellowships, funded millions of dollars in research grants that have advanced early detection and treatment options for women facing this disease and developed programs in underserved communities," said Freese.
Lurie Cancer Center Director, Leonidas Platanias, MD, PhD, spoke about the history of breast cancer and how the philanthropic support of LSCRF impacts our efforts to eliminate the disease.
Read more about the projects funded by LSCRF at lynnsage.org/grants
Read more about the Fall Benefit Luncheon in the Chicago Tribune
Back to top