2015 Oncofertility Conference Sparks Critical Conversations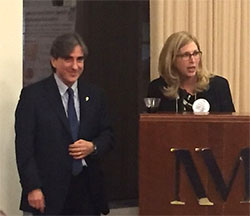 The ninth annual Oncofertility Conference, hosted by the Oncofertility Consortium at Northwestern University on our Chicago Campus November 3-5, provided a forum for Critical Conversations in Oncofertility: Pediatrics and Beyond. Lurie Cancer Center Director, Leonidas Platanias, MD, PhD, joined Teresa Woodruff, PhD, in welcoming more than 250 researchers, clinicians, patient advocates and trainees from around the world who are dedicated to ensuring reproductive health for young cancer patients whose disease or treatment may impair fertility.
Dr. Woodruff is the Thomas J. Watkins Professor of Obstetrics & Gynecology, Feinberg School of Medicine and Director of the Oncofertility Consortium, a national initiative designed to explore the reproductive future of cancer survivors. She is also Chief of the Division of Fertility Preservation at Feinberg, Director of the Women's Health Research Institute at Northwestern University and a member of the Lurie Cancer Center.
"Oncofertility science and research -- fusing oncology and reproductive medicine -- is a very important field that is rapidly growing both nationally and internationally," said Dr. Platanias.  
For the first time, the Oncofertility Conference was held back to back with the Critical Mass Annual Conference, linked by a joint reception.  The Lurie Cancer Center's Adolescent and Young Adult (AYA) Oncology Program works closely with Critical Mass on initiatives to transform the care and treatment of young adults with cancer, and were actively involved in the planning for the 2015 conference in Chicago. 
Back to top