Renee Israel Foundation Check Presentation for Breast Cancer Research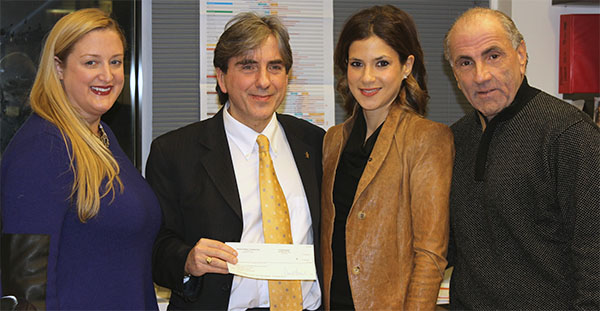 (From left) Ivy Israel, Dr. Leonidas Platanias, Emily Hoffman, and David Israel
On Tuesday, November 24, 2015, founding members of the Renée Israel Foundation presented Leonidas C. Platanias, MD, PhD, Director of the Lurie Cancer Center and the Jesse, Sara, Andrew, Abigail, Benjamin, and Elizabeth Lurie Professor of Oncology at Northwestern University Feinberg School of Medicine, with a $175,000 check to support the Renée Israel Foundation gift fund for breast cancer research at the Lurie Cancer Center. This check was comprised of proceeds from the foundation's annual fundraiser earlier this fall, which featured Duke University's famed head basketball coach, Mike Krzyzewski.
David Israel and two of his daughters, Ivy Israel and Emily Hoffman, were in attendance for the presentation. Their visit included a tour of Dr. Platanias' laboratory.
David and his daughters, Ivy, Jamie, and Emily, established the Renée Israel Foundation in 2006 in memory of their wife and mother, Renée Israel, who lost her battle to cancer in 2006. Since its inception, the foundation has partnered with Northwestern in the battle against cancer. After this most recent gift, the foundation is now within $15,000 of having raised $1 million for research and education in breast cancer at the Lurie Cancer Center.
Read more about the Renee Israel Foundation
Back to top