Retreat Expands Framework for the Future: Basic Sciences Research Division at the Lurie Cancer Center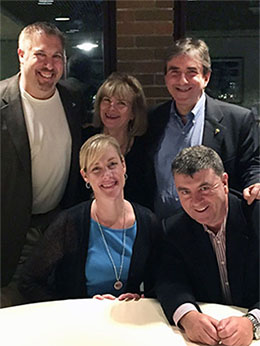 A recent strategic planning retreat brought leaders from the Basic Sciences Research Division's four programs together to exchange ideas and discuss ways to build on the Lurie Cancer Center's existing strengths to advance leading-edge scientific research and impact outcomes.
Led by Kathleen Green PhD, Associate Director for Basic Sciences Research, and Lurie Cancer Center Director, Leonidas Platanias, MD, PhD, the retreat also included our philanthropic partners at the H Foundation whose funding accelerates discoveries through laboratory-based research.
This inaugural retreat provided a valuable opportunity to focus on the Lurie Cancer Center's mission to overcome cancer by expanding opportunities for engagement, innovation and collaboration across Northwestern.  Major emphasis was placed on considering ways of re-structuring the Basic Science Programs to leverage new concepts in cancer biology and state-of-the-art technologies that drive progress in cancer research.  
Retreat participants also discussed strategies for fostering interactions with clinical programs and Northwestern Medicine Developmental Therapeutics Institute (NMDTI) to strengthen the pipeline that delivers discoveries at the bench to the bedside.
Learn more about the Basic Sciences Research Division and faculty
Back to top