Lurie Cancer Center Receives $750,000 from AVON 39 Chicago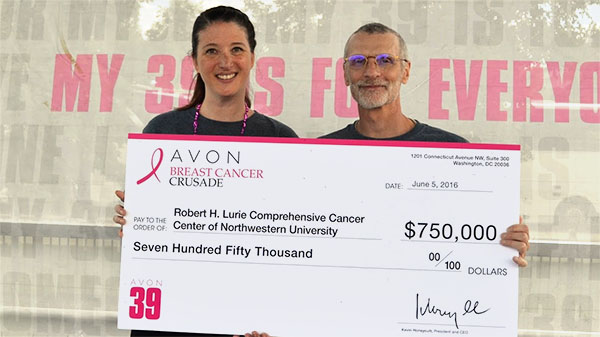 AVON 39 The Walk to End Breast Cancer continued its 14th annual event series in Chicago this weekend raising $4.1 million to accelerate breast cancer research; improve access to screening, diagnosis and treatment; and educate people about breast cancer.
The Robert H. Lurie Comprehensive Cancer Center of Northwestern University, home of the Avon Center of Excellence and the Avon Breast Cancer Research Laboratories received a grant of $750,000 to support three research projects researching how breast cancer develops, large-scale breast health education efforts, and one-on-one patient navigation at the Erie Family Health Center and Northwestern Memorial Hospital. David Gius, MD, PhD, leader of the Women's Cancer Research Program accepted the check on behalf of the Lurie Cancer Center.
AVON 39 Chicago – the third of seven events across the country united by the theme #Powerof39 – drew more than 1,600 participants from 46 states and Washington, D.C., including 248 breast cancer survivors who walked a total of 39.3 miles over two days. Since the AVON 39's launch in 2003, more than 220,000 participants have raised nearly $590,000,000. Funds raised are distributed to local, regional and national breast cancer organizations.
"This weekend, more than 1,600 AVON 39ers united in Chicago with one common goal: to end breast cancer," said Jill Surdyka, AVON 39 National Ambassador. "The grants given today will help us do just that – and will help us to further our goal in providing services to those in need, educating the public, and crushing breast cancer once and for all."
Back to top