Delivering Breakthroughs
Innovative Treatments Poised To Become Tomorrow's Standard Of Care At The Lurie Cancer Center and Northwestern Medicine
Robert H. Lurie Comprehensive Cancer Center of Northwestern University is working to develop transformative new treatments that have the potential to make dramatic leaps forward in life expectancy and quality of life. Formidable teams of tightly integrated experts in research and clinical care are making astounding progress toward new therapies to address urgent needs. For patients, this expertise can be life-changing — even lifesaving.
Cross-Examining Cancer
Over the next decade, the Lurie Cancer Center will transform therapies for patients with a new attack strategy based on the foundation that everyone's cancer is unique.
"Precision medicine" is more than a trendy term — it unlocks potential for tremendous impact by asking "why." Why does cancer form where and when it does? Cancer experts are "interrogating" tumors, like a guilty suspect in police custody who finally spills secrets.
At Northwestern, oncology physicians and scientists are delving into the molecular makeup of malignancies to develop new, more effective treatments. This move from organ-based oncology to genomic-based care is still in its infancy. Today, there are few effective drugs for tumors caused by genetic abnormalities.
"We work to discover and offer new treatments today that will become tomorrow's standards of cancer care," says Leonidas Platanias, MD, PhD, director of the Lurie Cancer Center, and Jesse, Sara, Andrew, Abigail, Benjamin and Elizabeth Lurie Professor of Oncology. 
Genomics Make a Difference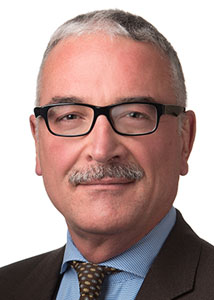 Massimo Cristofanilli, MD
Associate Director of Precision Medicine and Translational Research
Lurie Cancer Center
Massimo Cristofanilli, MD, professor of Medicine in the Division of Hematology-Oncology, joined Northwestern in late 2015 as associate director of Translational Research and Precision Medicine at the Lurie Cancer Center. His mission? To build the OncoSET (Sequence, Evaluate, Treat) program. The unprecedented initiative combines clinical evaluation, radiological assessment and genomic tumor profiling to find the best treatments or clinical trials for patients whose cancers are resistant to traditional therapies. The recently launched OncoSET clinic is located in Olson Pavilion.
"Our formidable team is working extremely hard to create a patient-centered, molecular-based approach to cancer care and demonstrate how this novel integrated approach can change outcomes," says Dr. Cristofanilli. "We expect that some of our findings may become mainstream treatments."
Other weapons for cancer destruction are being launched. Northwestern recently received a five-year, $11.7 million grant from the National Cancer Institute (NCI) to use nucleic-acid-based nanoscale materials called spherical nucleic acids (SNAs) to gain access to intracellular environments, discover new aspects of cancer biology and create effective and non-toxic cancer treatments. Exemplifying a multi-disciplinary approach, the new Northwestern Center for Cancer Nanotechnology Excellence (CCNE) continues the strong partnership between the Lurie Cancer Center and Northwestern's International Institute for Nanotechnology (IIN), under the leadership of Chad Mirkin, PhD, George B. Rathmann Professor of Chemistry. In 2016, foundational work between researchers at the Lurie Cancer Center and the IIN will lead to the world's first clinical trial using SNAs to combat glioblastoma multiforme, the most common and aggressive cancer that originates in the brain.
Dr. Platanias sees dramatic leaps ahead in immunotherapies — agents that manipulate the immune system to fight cancers — especially after the FDA last year approved one of the first immunosuppressants to fight lung cancer. He is also determined to form clinical trials to prevent cancer metastasis because no drugs exist specifically to block the spread of cancer cells throughout the body. Cancer stem cells are a major target because they can evade chemotherapy, hibernate and are difficult to control when they reappear.
For breast cancer treatment, William Gradishar, MD, director of the Lurie Cancer Center's Maggie Daley Center for Women's Cancer Care and Betsy Bramsen Professor of Breast Oncology, has great expectations of personalized medicine for patients at all stages of the disease. "By better understanding what's going on in the tumor in real time, we are going to be able to choose therapies that make a difference in patient outcomes. I think this effort will move along rapidly," he says. 
Dream vs. Reality
The urgent need for effective cancer care clashes with the lengthy time it takes to properly conduct basic research. A reorganization of sorts may help make breakthroughs happen faster.

Now in its first year, the Lurie Cancer Center's Translational Bridge Program fuels the discovery of medical applications during research. Post-doctoral clinical fellows are placed in the labs of outstanding basic scientists to form close working relationships that help elicit innovations in oncology treatment.

Not surprisingly, the NCI has designated the Lurie Cancer Center as a Comprehensive Cancer Center — one of the top cancer centers in the country for patient care, research and education. "In fact, we are also a founding member of the National Comprehensive Cancer Network," adds Dr. Platanias. "So we will continue to drive the practice guidelines in oncology."

Read the full article in Northwestern Medicine Magazine

After the panel, I talked with so many survivors from my own age group who were facing similar issues, and had some of the same questions that I had. I walked away from that event inspired and desperate to get more involved with Adolescent and Young Adult (AYA) education and events, and to meet others like myself. Being a part of this community has changed my life and given me another support system that I didn't even know I needed until it was there. I am so glad that I stepped outside of my comfort zone and decided to check out Cancer Connections that day. I went alone knowing that I wouldn't know anyone there, but being in that room full of survivors felt like being with family. I have no regrets.Back to top