The Smile On My Face Says It All!
This letter from cancer survivor Karyn Carmichael put a smile on the face of every member of Lurie Cancer Center's care team who read it! Our patients and families are the reason all of us are here.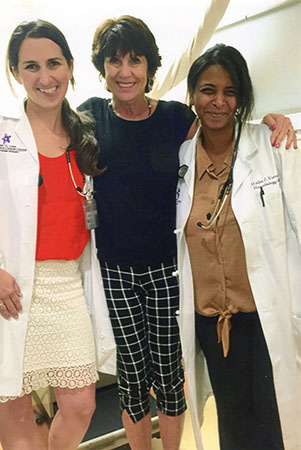 Tanya Rosenberg, Karyn Carmichael and Halla Nimeiri
Dear Dr. Mulcahy:
The smile on my faces says it all!! Five years ago I was diagnosed with stage 3B anal cancer. I was living in South Carolina at the time.
I knew that I needed to seek out the best doctors and facility for treatment.  I started in a clinical trial at Northwestern's Robert H. Lurie Comprehensive Cancer Center in July, 2011.  I underwent standard chemo, a clinical trial drug and 6 weeks of radiation. I dropped down to about 110 pounds and ended up in emergency 3 times.  I proceeded to return to Chicago every three months for scans and follow-up.  Two years ago I was diagnosed unrelated breast cancer which required a lumpectomy and more radiation and more trips to Chicago.
Two weeks ago I had a mammogram, ultrasound, CT scans, biopsy, blood work and visit with oncologists, etc. I am cancer free.
The purpose of this letter is to inform you of the excellent service I received from your staff, in particular, Dr. Halla Nimeiri and Tanya Rosenberg, NP.  I truly believe if not for them, I would not be alive today.  They both went above and beyond their responsibilities to ensure that I received expert treatment in all areas of my cancer, including Dr. Michael McGee, Dr. John Hayes, and many other physicians and other departments.  Ms. Tanya helped me on so many occasions with phone calls, emails, etc. when I was in my darkest hours.  There was no doubt when I was diagnosed with breast cancer that I would return to Chicago. Tanya helped me and reached out to breast specialists to ensure the best care.  She did it with compassion, timeliness, and caring. 
I hope you will take the time to commend these individuals for their outstanding service.  If you look at any of my charts for the past five years you will see hundreds of appointments with various individuals.  It is because of them that I won't go anywhere else for treatment.  I am still in the clinical trial for an additional five years, so will be making annual trips to Chicago.  But, if for any reason, I need additional treatment or know of any individuals that do, I will highly recommend Northwestern Medical Center and these individuals. 
Thanks for your time in this matter,
Sincerely,
Karyn Carmichael
Back to top