Celebrating ChicagoCHEC Fellows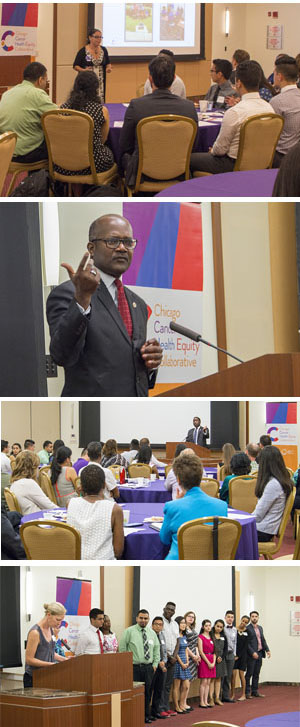 The Chicago Cancer Health Equity Collaborative celebrates its first graduation for fellows who bring diverse perspectives to the table.
The Chicago Cancer Health Equity Collaborative (ChicagoCHEC) celebrated 15 fellows during the graduation of its inaugural Research Fellows Program. The graduation ceremony included presentations about the fellows' research projects and remarks from State Representative Al Riley, assistant majority leader, 38th District and State Representative Marcus Evans Jr., 33rd District, on the importance of diversity in the medical field. 
ChicagoCHEC is a National Cancer Institute comprehensive cancer partnership led by the Robert H. Lurie Comprehensive Cancer Center of Northwestern University, Northeastern Illinois University and the University of Illinois at Chicago (UIC). Its mission is to advance cancer health equity through meaningful scientific discovery, education, training and community engagement. 
The Research Fellows Program is for undergraduate students with a small cohort of post-baccalaureate research fellows at Northeastern University, UIC, Northwestern University and City Colleges of Chicago who are planning to apply to graduate or medical school. Fellows in the first graduating class come from local Chicago neighborhoods and from as far away as Jordan and Rwanda.
ChicagoCHEC research fellows gain important knowledge, skills and networks for their journey to become researchers and healthcare professionals who can bring diverse perspectives and experiences to advance the nation's work toward cancer health equity.
Melissa Simon, MD, MPH, the George H. Gardner professor of clinical gynecology in the Department of Obstetrics and Gynecology at Northwestern University Feinberg School of Medicine, co-leader of the Lurie Cancer Center's Cancer Control and Survivorship Program, and one of ChicagoCHEC's principal investigators, opened the graduation and said, "We set out to do something different with this program. We wanted to plant the seed of opportunity across our community."
Rep. Riley echoed Dr. Simon's remarks, adding that the fellows need to continue breaking down barriers to push for more minority representation in health care. "Barriers keep minorities out of places they need to be in," he said.
Rep. Evans, a cancer survivor since 2006, told his personal story to inspire the fellows. He also encouraged fellows to keep in touch with their state representatives throughout their careers to make sure Congress pushes for the right types of funding to keep research moving forward.   
Joined by family and friends at the graduation, fellows presented a variety of research projects. Topics included:
Smoking cessation
An e-Health intervention to improve symptom burden and health-related quality of life among Hispanic women completing treatment for breast cancer
Using mobile-based support tools to connect breast cancer patients with physical disabilities with other survivors with similar challenges
ChicagoCHEC is excited about the future of the inaugural class of fellows as well as the program's potential impact on future students.
Funding support for ChicagoCHEC is provided by the National Cancer Institute (grants U54CA202995, U54CA202997, and U54CA203000).   
Back to top