H Foundation's Goombay Bash Smashed Fundraising Goals! $638,705 Raised to Fund Basic Science Cancer Research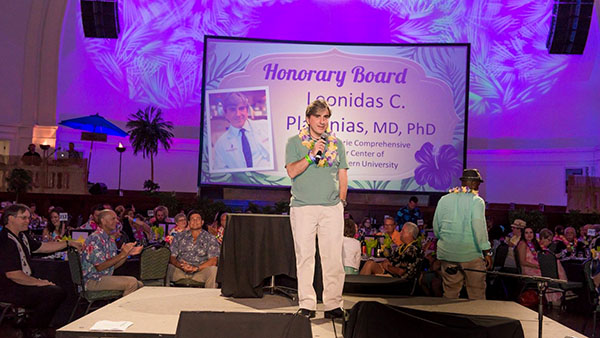 "It was a record breaking year for the Goombay Bash. We are well on our way to exceeding our 2015 year-end fundraising total of $708,000," said newly hired Executive Director Cortney Frahm. "In 16 years, we have raised over $7 million dollars to help find a cure for cancer."
Event highlights included appearances by George Wendt ("Norm" from the hit show Cheers) and the beloved 1985 Chicago Bears Super Bowl Champions; Dan Hampton (#99), Jay Hilgenberg (#63), and Steve McMichael (#76).  Dressed in Hawaiian shirts and leis, guests enjoyed the casual Caribbean-style event featuring 200+ silent auction packages, live drawing $10,000 raffle prize, the Goombay Smash signature cocktail, a gourmet buffet, and a live auction. The evening ended with a fireworks finale.
"At the H Foundation, we always say that cancer is personal," said John Rot Executive Board President of The H Foundation.  "When I saw over a thousand people standing on their feet in the Navy Pier's Grand Ballroom because their lives had been touched by cancer, there were no words. Cancer is an epidemic that affects us all. "
After losing a dear friend to cancer, The H Foundation and Goombay Bash was started by a few friends with entrepreneurial spirit who decided to make a difference in the fight against cancer.  The H Foundation hosted their first Goombay Bash in 2001 to honor Pam Herts, a 31 year old mother who had lost her battle with breast cancer, leaving behind a one year old son. Since then, the event has grown to become one of the largest and liveliest cancer research fundraising events in Chicago.
"The harsh reality is that while we were at the Goombay Bash raising money for cancer research, cancer took the lives of almost 2,000 people," said Leonidas C. Platanias, MD, PhD, director of the Lurie Cancer Center. "The H Foundation continues to help us provide critical funding and has had an extraordinary impact on ground-breaking research to develop more effective approaches for cancer prevention, detection, and treatment."
Back to top