Translating Science to Cures at Inaugural Event to Benefit Lurie Cancer Center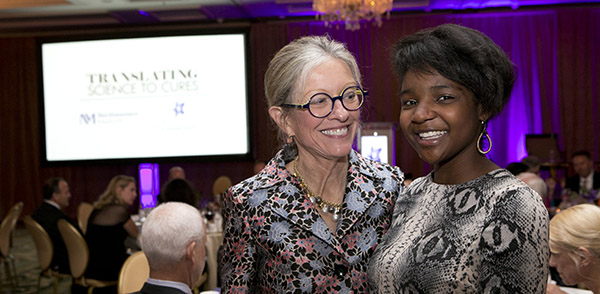 Ann Lurie and Jam Ransom-Marks
Nearly 250 friends and supporters gathered for Translating Science to Cures, the inaugural fundraising event to support the Robert H. Lurie Comprehensive Cancer Center of Northwestern University. The event, held August 29 at the Four Seasons Hotel Chicago, raised almost $1 million that will directly support Lurie Cancer Center's innovative research and cancer care.
"The idea of the word 'cure' makes your heart beat a little faster," said WGN anchor and medical reporter, Dina Bair, who served as the fundraiser's emcee. Ms. Bair shared that she was diagnosed with ovarian cancer at age 21, and was treated in 2008 for melanoma that had metastasized to her liver.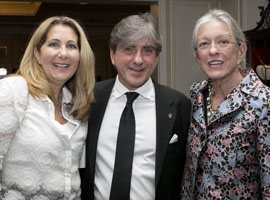 Julie Platanias, Leon Platanias and Ann Lurie
"There is a plethora of information and brilliant minds at the Lurie Cancer Center, all working toward a common goal," said the evening's host Ann Lurie, president of the Ann and Robert H. Lurie Foundation and Lurie Holdings, Inc. Ms. Lurie served as the event's co-chair alongside Lurie Cancer Center director Leonidas C. Platanias, MD, PhD. "I hear words like 'collaboration' and 'confluence'," she said, "and I know that we are on the brink. This is an exciting time for us all and for the future of our families."
Click here to watch a video that premiered at the event, and see the impact that Translating Science to Cures has on the lives of our patients.
During cocktails and dinner, guests enjoyed music from Sharing Notes, an organization composed of musicians from professional ensembles and educational institutions as well as local freelancers who volunteer their talent and time to perform intimate, live music for hospital patients and their families across Chicagoland.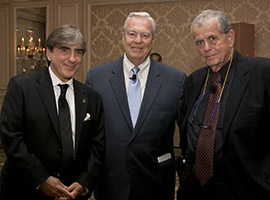 Leon Platanias, Bill Kurtis and Aaron Ciechanover
An enlightening discussion with Keynote Speaker, Aaron Ciechanover, MD, PhD, Nobel Laureate in Chemistry and distinguished research professor within the Rappaport Faculty of Medicine and Research Institute at the Technion-Israel Institute of Technology, and Dr. Platanias, the Jesse, Sara, Andrew, Abigail, Benjamin and Elizabeth Lurie Professor of Oncology, was moderated by journalist and television producer, Bill Kurtis. "The best way to prevent cancer is to predict it," said Dr. Ciechanover. "Technology is coming with us on this journey – the future lies in our ability to profile patients individually and treat them based on their own unique diseases and immune systems."
Back to top