The Investiture of Dr. Daniela Matei as the Diana, Princess of Wales Professor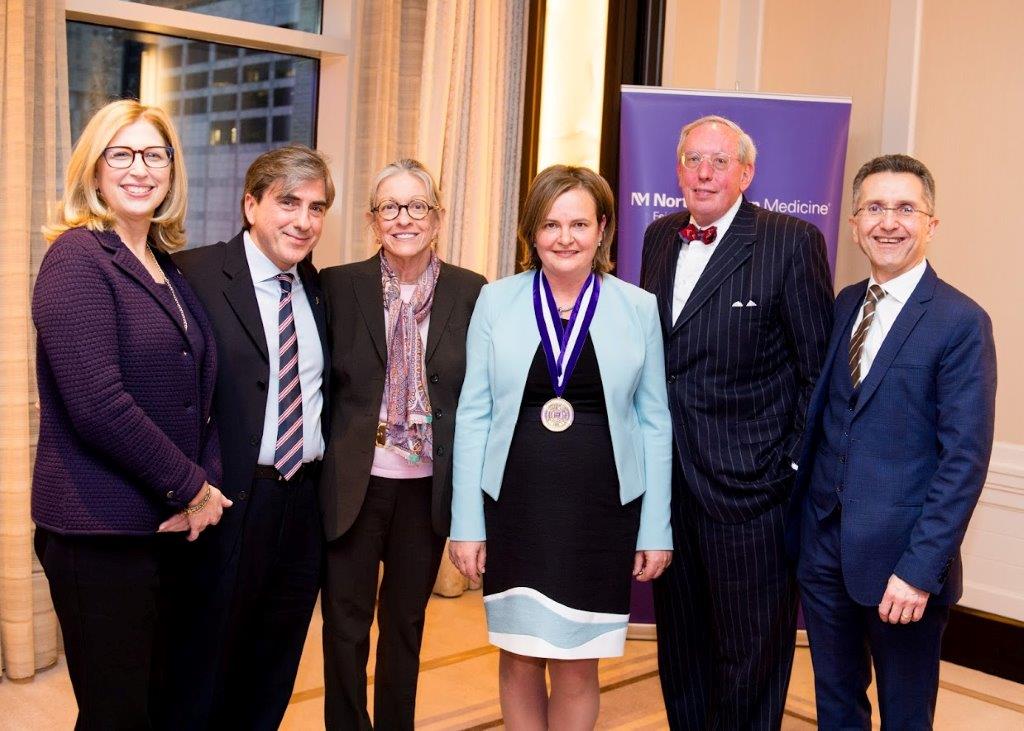 (From left) Teresa Woodruff, Leonidas Platanias, Ann Lurie, Eric Neilson and Serdar Bulun
On October 27, 2016 at The Peninsula Chicago, Daniela E. Matei, MD, was formally invested as the Diana, Princess of Wales Professor of Cancer Research. Dr. Matei is professor of Obstetrics and Gynecology in the Division of Gynecologic Oncology and professor of Medicine in the Division of Hematology/Oncology and co-leader of the Translational Research in Solid Tumors (TRIST) Program at the Lurie Cancer Center. She joined Northwestern in January 2016 after a successful 13-year tenure at Indiana University School of Medicine. Dr. Matei is an accomplished physician-scientist who has contributed significantly to improving the treatment of ovarian cancer by conducting high-caliber clinical and basic science research.
"Professorship endowments offer stability and flexibility, and they enable us to achieve our research and educational purposes more effectively through recruitments of talented faculty, like Dr. Matei," said Serdar E. Bulun, MD, chair and John J. Sciarra Professor of Obstetrics and Gynecology, who hosted the investiture. "An endowed professorship is a special gift that lives in perpetuity, honoring the individual for whom it is named and standing as a monument to the generosity and wisdom of the donor."
Dr. Matei's family, friends, and colleagues joined leaders from the medical school and Lurie Cancer Center to celebrate at the investiture ceremony. Ann Lurie, president of Ann and Robert H. Lurie Foundation and Lurie Holdings, Inc. and longtime supporter of Northwestern, spoke during the gathering about the importance of endowed professorships and her establishment of this professorship in 1996 to commemorate Princess Diana's visit to Northwestern.
Another Chapter in the Philanthropy of Ann Lurie at Northwestern
"Back in 1996, I remember that Diana urged cancer researchers at Northwestern to avoid the other 'c' word—complacency—in their work. Today, we have adopted 'urgency' in its place," said Ms. Lurie. "I am happy that through this professorship that exists in perpetuity I could help to leverage the recruitment of someone like Dr. Matei."

When her late husband, Bob Lurie, was diagnosed with colon cancer in 1988, they chose Dr. Steve Rosen at Northwestern as his physician. Before Bob's death in 1990, the couple endowed Lurie Cancer Center. Today, it ranks as one of the world's premier cancer treatment and research centers, having earned the coveted National Cancer Institute's "comprehensive" designation in 1997.
"As the holder of a professorship funded by Ann, I have personally felt the impact of her hands-on support and am dedicated to honoring Bob's memory," said Dr. Leonidas Platanias, director of Lurie Cancer Center and the Jesse, Sara, Andrew, Abigail, Benjamin, and Elizabeth Lurie Professor of Oncology. "The Diana, Princess of Wales Professorship marks yet another chapter in Ann's philanthropic legacy."
"Funding an endowed professorship is satisfying. I know that the research mission of Lurie Cancer Center will continue through this position in perpetuity, long after I'm gone," said Ms. Lurie. "I salute Dr. Matei on joining such a unique and elite group and wish her the very best in her research pursuits."
A Renaissance Physician-Scientist
A native of Romania, Dr. Matei did not always want to be a physician-scientist and originally pursued work as a poet. After earning her medical degree from Carol Davila University of Medicine and Pharmacy in Bucharest, she completed an internal medicine residency at SUNY at Stony Brook and a hematology/oncology fellowship at the University of California, Los Angeles. She then served as a professor at Indiana University for 13 years before recently coming to Northwestern.  
In her laboratory, Dr. Matei studies mechanisms of ovarian cancer metastasis and novel therapeutics. The general theme of her work is translation between bench and clinic, with laboratory research forming the foundation of clinical experiments.
"Dr. Matei's work in cancer epigenomics produces stanza after stanza of new data on how ovarian cancer behaves," said Dr. Matei's extoller, Teresa K. Woodruff, PhD, who is the Thomas J. Watkins Memorial Professor of Obstetrics and Gynecology, director of the Women's Health Research Institute, and chief of the Division of Reproductive Science in Medicine at Northwestern.
In her remarks, Dr. Matei quoted the American poet Jason Shinder who died in 2008 after his battle with leukemia: "'If there is not a cure, I still want to correct a few things.' Alongside my colleagues at the Lurie Cancer Center, I am certain that we can make a few corrections."
"Diana, Princess of Wales was a deeply caring person, and Ann Lurie is a powerfully devoted person. Dr. Matei is the best of both of their aspirations," said Dr. Woodruff.
Bloom – a poem by Dr. Daniela Matei
I dressed up in my new tight
perfectly tailored brooks brothers skirt
I put on mademoiselle perfume
blue shadow around my eyes
tan peep-toe heels before
heading out
I kept my smile the misty pleasant scent
throughout the day I did not flinch
sharing my compassion
endlessly I shook
hands patted shoulders
I did not feel pain until
five o'clock
when I walked out spring
was finally here
the balmy wind
blossoms on every tree
cancer is pink
Back to top