2016 Lurie Cancer Center Symposium and Scientific Poster Session
The 8th Annual Lurie Cancer Center Symposium and 27th Annual Scientific Poster Session, held June 23 at the Robert H. Lurie Medical Research Center, provided a forum for graduate students and postdoctoral fellows to display their work, network, and learn about the cancer-related research of their colleagues.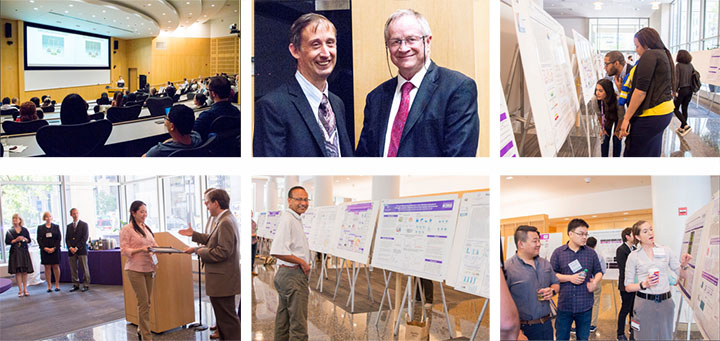 The symposium, co-chaired by John Crispino, PhD and Jindan Yu, MD, PhD, featured Keynote Speaker Geofrey Greene, PhD, Director of the Ben May Department of Cancer Research at the University of Chicago, and presentations by postdoctoral fellows and graduate students about their research in the labs of Lurie Cancer Center members.
Following the Keynote Presentation, "Targeting ER and PR in Breast Cancer," students, faculty, fellows and lab members, including recipients of grants from the Katten Muchin Rosenman, Center for Genetic Medicine, and Cancer Prevention and Control Travel Scholarship Programs, gathered in the Ryan Atrium for the poster session highlighting the outstanding contributions to cancer research.
The Lurie Cancer Center is pleased to announce the recipients of the Stone Awards for the top posters presented at the Poster Session: 
"A regulatory circuit of miR-125b/miR-20b and Wnt signaling controls GBM phenotypes through FZD6 mediated pathways."
"DOT1L is a novel therapeutic target in prostate cancer."

Tianzhi Huang, PhD
Cheng laboratory



Rajita Vatapalli
Abdulkadir laboratory
Congratulations to all of the Travel Grant winners!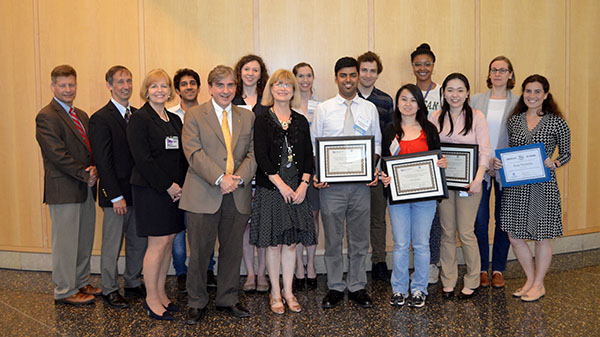 Travel grant recipients with Lurie Cancer Center Director, Leonidas Platanias, MD, PhD, and other senior leaders
Back to top