John P. Hanson Foundation for Cancer Research Won't Take Slow for an Answer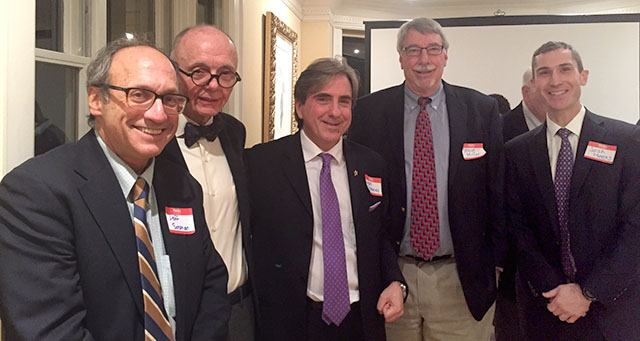 John P. Hanson, MD, introduced the John P. Hanson Foundation for Cancer Research, Inc., and shared his personal dedication to raising funds for the Lurie Cancer Center's Translational Bridge Program at a recent reception in his Milwaukee, Wisconsin home. "New discoveries are being made at an astonishing pace. I think the way we will make progress with cancer is through collaboration," said Dr. Hanson. "The greater good cannot be achieved alone."
A medical oncologist now retired from active practice, Dr. Hanson spent the last two decades of his career focused on clinical research in cancer immunotherapy. He believes immunotherapy is "the way forward," and is committed to supporting innovative research in cancer immunology at the Lurie Cancer Center.
More than 60 colleagues, patients, friends and family joined Dr. Hanson and Lurie Cancer Center Director, Leonidas Platanias, MD, PhD, Joshua Meeks, MD, PhD, Stephen Miller, PhD, and Jeffrey Sosman, MD for a discussion about the evolving field of immunotherapy. The Foundation supports opportunities for postdoctoral research within the Translational Bridge Program by funding a Hanson Scholar who is co-mentored by a clinician and a basic scientist, thus becoming a conduit for exceptional translational research.
"Immunotherapy is one of the most promising and exciting fields of cancer research and treatment," said Dr. Platanias. "John's support will fuel the breakthroughs to realize that promise."
Back to top