PhD Students Receive Prestigious NCI Funding for Cancer Research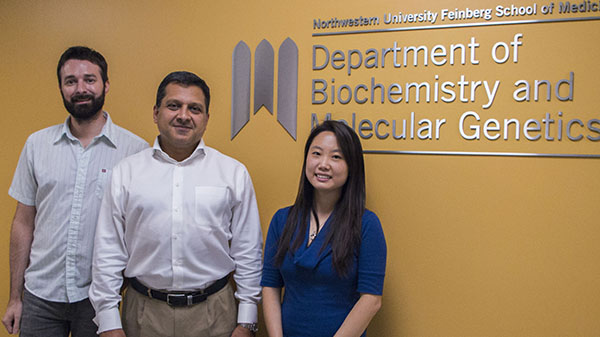 Ryan Rickels, Ali Shilatifard, and Christie Sze
Two fifth-year doctoral students in Northwestern University Feinberg School of Medicine's Walter S. and Lucienne Driskill Graduate Program in Life Sciences (DGP) were awarded highly prestigious Fellowships from the National Cancer Institute (NCI).  Ryan Rickels and Christie Sze received grants for research conducted in the lab of Ali Shilatifard, the Robert Francis Furchgott Professor, Chairman of the Department of Biochemistry and Molecular Genetics, and a member of the Robert H. Lurie Comprehensive Cancer Center of Northwestern University.
Rickels received a Predoctoral Fellow Transition Award (F99/K00) from the NCI. Designed to encourage and retain outstanding graduate students who have demonstrated potential and interest in pursuing careers as independent cancer researchers, the award will support Rickels's investigation of the COMPASS family of proteins central to gene expression.
Sze received a Ruth L. Kirschstein National Research Service Award for Individual Predoctoral Fellows (F31). The Fellowship supports promising doctoral candidates with a clear cancer focus, and will facilitate her research of the COMPASS family of lysine methyltransferases in cancer development.
"I am very proud of Christie and Ryan for obtaining these fantastic awards.  These awards are testaments to the quality and the brilliance of the outstanding students we recruit to the DGP program at Northwestern Medicine.  I have no doubt that they both will be great stewards of these awards by their dedication and passion for their science in defining the epigenetic basis of cancer pathogenesis," says Shilatifard.