Lurie Cancer Center Receives Grant from AVON 39 Chicago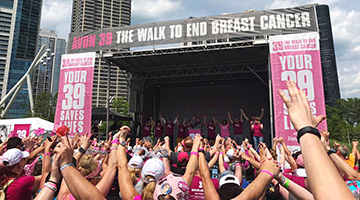 AVON 39 The Walk to End Breast Cancer continued its 15th annual event series in Chicago June 3-4, raising $3.1 million to accelerate breast cancer research; improve access to screening, diagnosis and treatment; and educate people about breast cancer.
The Robert H. Lurie Comprehensive Cancer Center of Northwestern University, home of the Avon Center of Excellence and the Avon Breast Cancer Research Laboratories, received a grant of $650,000 to support three research projects investigating how breast cancer develops, large-scale breast health education efforts and one-on-one patient navigation at the Erie Family Health Center and Northwestern Memorial Hospital.
United by the theme #FierceIsForever, AVON 39 Chicago drew more than 1,450  participants from 42 states and Washington, D.C., including 241 breast cancer survivors who walked a total of 39.3 miles over two days.
"Since 1992, the Avon Breast Cancer Crusade has been committed to enabling access to medical advances and support services for breast cancer patients, particularly those from vulnerable populations," said Jill Surdyka, AVON 39 National Ambassador. "The $3.1 million raised this weekend will allow us to continue this important work with our beneficiaries in the Chicago area and across the nation, with the hope that one day we will obliterate breast cancer once and for all."