Bartom Receives NCI Research Specialist Award to Support Exceptional Science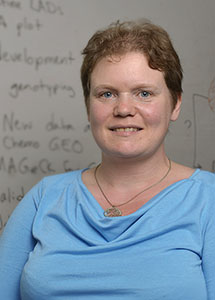 Elizabeth Thomas Bartom, PhD, Assistant Professor of Biochemistry and Molecular Genetics, has received a Research Specialist Award (R50) from the National Cancer Institute (NCI). Granted for the first time in 2016, the program was introduced to encourage exceptional scientists who want to pursue research within the context of an existing NCI-funded basic, translational, clinical or population science cancer research program, working in collaboration with other scientists.

Dr. Bartom received her PhD from the Watson School of Biological Science at Cold Spring Harbor Laboratory and performed her post-doctoral research at the Broad Institute of MIT and Harvard Medical School. She joined the faculty of Northwestern University Feinberg School of Medicine in the department of Biochemistry and Molecular Genetics in 2015 as part of the innovative Team Scientist track.

Since then, Dr. Bartom has contributed key expertise in genomics and computational biology to a number of high-impact cancer studies, including research led by Ali Shilatifard, PhD, that revealed the genetic driver of a lethal childhood leukemia and identified a targeted molecular therapy that halts the proliferation of leukemic cells. Dr. Shilatifard is the Robert Francis Furchgott Professor, Chair of the Department of Biochemistry and Molecular Genetics, and a member of the Robert H. Lurie Comprehensive Cancer Center of Northwestern University.

"The talented new faculty recruits and molecular research within the Department of Biochemistry and Molecular Genetics strengthen our efforts, advancing science to the next level," said Leonidas Platanias, MD, PhD, Director of the Lurie Cancer Center.