Lurie Cancer Center STAR Program Receives First-Ever FIERCE Award for Survivorship from the Biden Cancer Initiative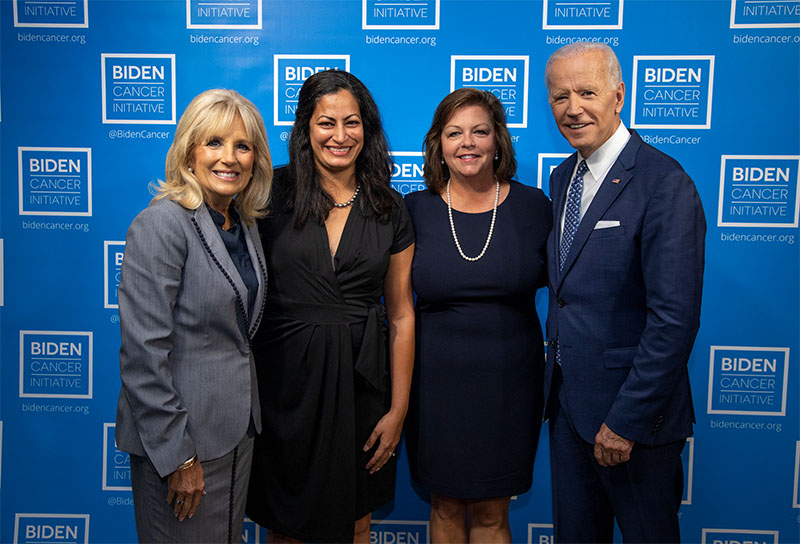 The STAR Program (Survivors Taking Action & Responsibility) a clinical, research and education program for adult survivors of childhood cancer at the Robert H. Lurie Comprehensive Cancer Center of Northwestern University, received the inaugural FIERCE Award for Survivorship from the Biden Cancer Initiative, recognizing and celebrating the program's "transformative impact on the lives of cancer patients."
The STAR Program, part of the Cancer Survivorship Institute, is one of just 10 individuals and programs to receive a FIERCE Award, selected from among more than 700 nominations for its "research-based surveillance and follow-up care." Aarati Didwania, MD, MSCI, associate professor of Medicine and a physician with decades of experience in cancer survivorship, and Karen Kinahan, DNP, APN, FNP-BC, a nurse practitioner with expertise in the late effects of childhood cancer, accepted the award at the Biden Cancer Summit Welcome Reception on September 20 in Washington, DC.
For childhood cancer survivors, learning to protect their health and embrace survivorship is a life-long job. Thanks to medical advances, more than 80 percent of childhood cancer patients in the U.S. become cancer survivors. The goal of the STAR Program is not "disease surveillance," says Kinahan. "We believe that education empowers our patients to manage potential late effects and advocate for their own long-term health."
The STAR Program was one of the first in the nation to take this innovative approach to long-term care, and has served as a model for other institutions seeking to meet the needs of the growing population of childhood cancer survivors. Since 2001, the program has provided state-of-the-art survivorship care for nearly 500 patients who were diagnosed before age 21, addressing the medical, psychological and social challenges that can occur months, or even years after treatment end.
"Cancer patients should know that they will always need medical attention, but many times it is not because there is something wrong. It's because we are trying to prevent something from going wrong," says Didwania, an associate professor of Medicine at Northwestern University Feinberg School of Medicine.
Learn more about the STAR Program