Hockey Legend Eddie Olczyk Plays to Win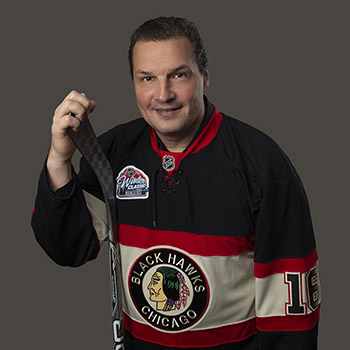 United States Hockey Hall of Fame member and Chicago Blackhawks legend Eddie Olczyk knows how to win. Part of the 1984 U.S. Olympic hockey team, Eddie played 16 seasons in the NHL, winning a Stanley Cup with the New York Rangers in 1994. After retiring as a player, he coached a professional hockey team before taking his place in the broadcast booth as the Blackhawks announcer and color commentator for the NHL on NBC.
Eddie faced his toughest challenge last August, when he was diagnosed with stage III colon cancer. Within three days of diagnosis, Scott A. Strong, MD, performed surgery to remove the advanced-stage tumors. Dr. Strong is a specialist in colon and rectal surgery at the Northwestern Medicine Digestive Health Center and the Robert H. Lurie Comprehensive Cancer Center of Northwestern University, and is on staff at Northwestern Memorial Hospital.
Dr. Strong was aggressive in removing the cancer so that Eddie could start chemotherapy early after surgery. When Eddie met with Lurie Cancer Center oncologist, Mary Mulcahy, MD, it was clear that her determination matched his own. "I'm here to cure you, not to treat you," she told him at their first meeting. "Do you understand the difference?"
He understood, and set his own goals along the way. Eddie noted events and milestones he could look forward to — his daughter's college graduation, Christmas with his family, hockey games, the Super Bowl. "Having short-term goals and short-term targets got me to the next place."
A World-Class Team
Olczyk could have traveled anywhere in the world for treatment, but he trusted the world-class care and advanced technologies at Northwestern Medicine and the Lurie Cancer Center. In its 2017-2018 "Best Hospitals" report, U.S. News and World Report named Northwestern Memorial Hospital the No. 1 hospital in Illinois for a sixth consecutive year, and ranked its cancer program No. 16 nationally. This leading-edge care means that Eddie had access to the most advanced treatment options.
Eddie knows the importance of teamwork, on and off the ice. In addition to Dr. Strong and Dr. Mulcahy, he and his family were supported by a skilled and compassionate multidisciplinary team, and the guidance and encouragement of Blackhawks team physician Michael Terry, MD, an orthopedic surgeon with Northwestern Medical Group.
"Team Olczyk" included some other important members. "The incredible support from day one -- from my family, the entire Blackhawks organization, and all my friends and fans was some of the best medicine I received," he says. 
Within weeks of his surgery, Eddie began six months of chemotherapy tailored to his specific type of cancer. Now, ten months from his diagnosis, Eddie shows no signs of cancer. Like most colon cancer survivors, he will receive follow-up care to reduce the risk of recurrence.
Eddie is back to calling games for the Blackhawks and NBCSN. He's looking forward to his 30th wedding anniversary this summer, and his oldest son's wedding — exactly 365 days from the date he was diagnosed with cancer. 
One of his short-term goals is participating in Lurie Cancer Center's Cancer Survivors' Celebration Walk & 5K, where he will be honored as one of the "Faces of Cancer." The Stanley Cup Final schedule is the only thing that could come between him and the 25th Annual event.
With treatment behind him, Eddie values "showing up" for others more than ever. "If there's someone fighting any battle, any disease, going through a tough time, it's important to check in," he says. "Getting those calls and messages got me through."
"I'm lucky for the support. I'm lucky I had the team of doctors that I did," he adds. "I'm putting this in the rearview mirror and getting back to what I love to do."
Register Now! Look for Eddie's photo among the "Faces of Cancer" banners on the lakefront path as we walk, run and celebrate survivorship together on National Cancer Survivors Day!
25th Annual Cancer Survivors' Celebration Walk & 5K
Sunday, June 3, 2018
Grant Park, Chicago
5K Run at 9:30 a.m. | Walk at 10:00 a.m.
Back to top