Campaign 2 Save Lives Raises over $25,000 for Leukemia Research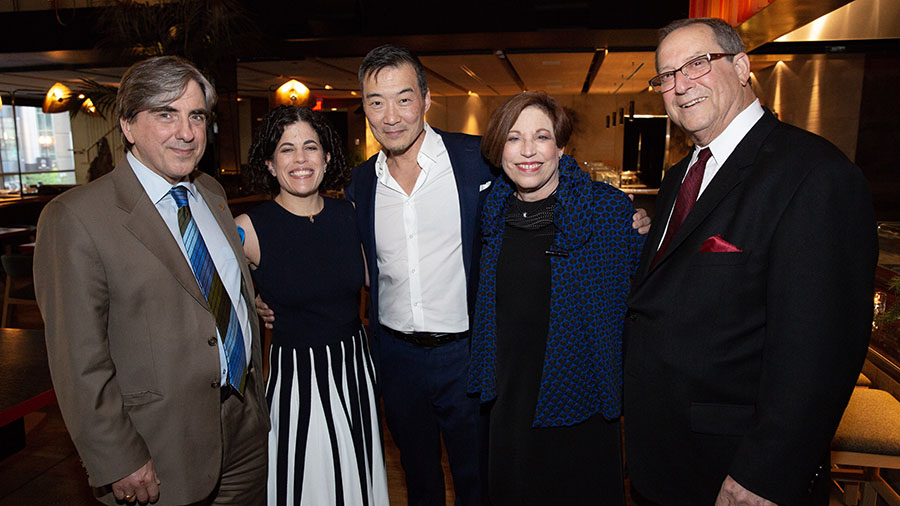 Leonidas Platanias, MD, PhD, Jessica Altman, MD, Jason Chan, Barbara and Bruce Jacobson
On May 16, more than 150 guests and supporters of the Campaign 2 Save Lives (C2SL) gathered at Katana in Chicago to raise funds for leukemia research and honor cancer survivor Jason Chan with C2SL's 2018 Icon of Chicago Award.
"Cancer is the best – worst thing that ever happened to me," said Chan, a veteran Chicago restaurateur. "When you get a second chance, there's an overwhelming sense of gratitude.  I'm thankful to be here and to be able to dream, laugh, learn and love."
Chaired by C2SL co-founders Barbara and Bruce Jacobson, the dinner was held to raise funds for the Leukemia Translational Research Program (LTRP) at the Robert H. Lurie Comprehensive Cancer Center of Northwestern University.
"When Barbara and I conceived this campaign, she was in the midst of 155 days of treatment at the Lurie Cancer Center.  We remained optimistic that we would come out at the other end together, and try our best to do something good," Bruce Jacobson told guests. "I'm not a doctor or a scientist, but because of my involvement with C2SL, I hope to be able to tell my grandchildren someday that I helped to cure cancer."
"I am so grateful to Barbara and Bruce for their commitment to this important work," said Leonidas Platanias, MD, PhD, director of the Lurie Cancer Center. "They are doing something big -- they are trying to change the way we treat this disease."
The LTRP is led by Jessica K Altman, MD, Director of the Acute Myeloid Leukemia Program, and Olga Frankfurt, MD, Associate Director of the Cord Blood Transplant Program. Drs. Altman and Frankfurt are associate professors of Medicine in the Division of Hematology and Oncology at the Feinberg School of Medicine. "Just to put this in perspective, it's been decades since a new drug was approved for the treatment of leukemia," Dr. Altman told guests.
"Now, over the past year, four new drugs have been approved for the treatment of Acute Myeloid Leukemia. At the Lurie Cancer Center and Northwestern Medicine, we have been involved with some of the pivotal trials that have led to their approval. The type of cutting-edge work being done to move these treatments forward is generally only funded by philanthropy," she concluded. "It makes a huge difference."
The American Cancer Society estimates that more than 60,000 people will be diagnosed with leukemia this year. Despite dramatic advances in understanding cancer biology, more work remains to develop and deliver new and effective treatment options. With the support of C2SL, the Leukemia Translational Research Program at the Lurie Cancer Center offers hope to newly diagnosed leukemia patients, and to patients who have been battling acute and chronic leukemias, myelodyplastic syndromes, and other chronic myeloid neoplasms.
Thank you to the 2018 Icon of Chicago Award Dinner sponsors:
Research Supporters
Susan Eby
Lisa & Larry Goldfine
Bobby & Stuart Levin, MD
Research Sponsors
Network for Good
Research Advocates
Barbara & Bruce Jacobson
To learn more about Campaign 2 Save Lives (C2SL), contact Lauren Pedi, Northwestern Philanthropy, 312.503.4635, lauren.pedi@northwestern.edu or Barbara Jacobson, Co-Founder at barbara@campaign2savelives.org 
Back to top