When Family Members Become Patients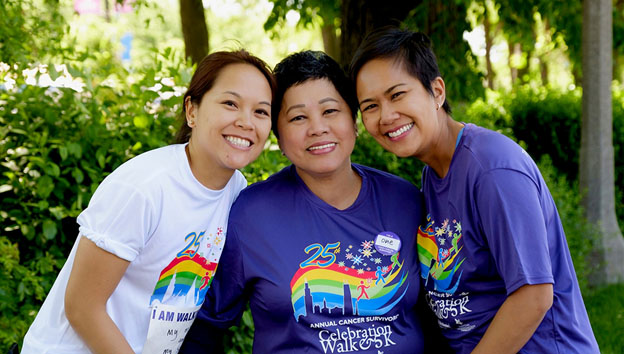 As a nurse practitioner in the Division of Immunotherapy and Autoimmune Disease at Northwestern Memorial Hospital, Michelle Calvario, MS, APRN-CNP, AGACNP-BC, has a unique perspective to share with her patients and their family members because she has been in their shoes — twice. Calvario's sister was treated at the Lurie Cancer Center at Northwestern Memorial Hospital for a rare lymphoma and then, months later, her mother was diagnosed with stage three lung cancer.
"I don't know what type of nurse practitioner I would be if not for the experiences my family has gone through," Calvario says. "My experience with my mom and sister impacts the care I give to my patients every single day."
A recurrence of lymphoma
Less than a year after Calvario started working at Northwestern Memorial Hospital, her sister, Kristin Suma, learned that her rare lymphoma returned after three years in remission. Suma had previously undergone chemotherapy where she lives in Northern Virginia, but this time, she required a stem cell transplant along with several months of chemotherapy and radiation. Seeking the best care for her condition, Suma packed up with her husband and two children and moved to Chicago to begin treatment at the Lurie Cancer Center.

"It was surreal," Calvario says. During Suma's treatment, she was often admitted to Prentice 16, where Calvario works. "My sister's caregivers did not need to know I worked on the unit to give Kristin compassionate and expert care."

Suma's 21-day admission for her stem cell transplant was a difficult stay. "I slept on the pull-out sofa, ordered meals from dining on call, and woke up with Kristin for lab draws and from beeping IV pumps," Calvario recalls. "I quickly understood why my patients showered Northwestern Memorial Hospital with praise. The team surrounding not only my sister, but our family, made an exhausting and terrifying process feel manageable."
Suma moved back to Northern Virginia in July 2018 and is now two years cancer-free.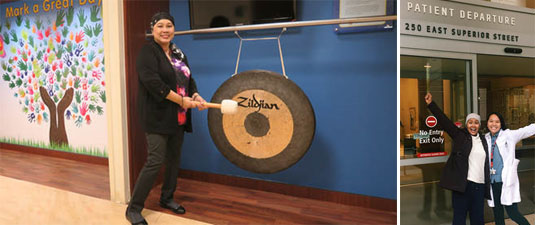 Another cancer diagnosis
Just a few months after Suma's stem cell transplant, cancer struck Calvario's family again. Her mother, Marilou Calvario, a non-smoker and a nurse with 43 years of experience, was diagnosed with stage three lung cancer. Again, the family turned to Northwestern Memorial Hospital. "Like a true nurse, she handled her nine rounds of chemotherapy and 30 treatments of radiation with grit and grace," Calvario says. Her mother is still undergoing immunotherapy treatments every two weeks, but feeling strong.

Moving forward one step at a time
On June 3, 2018, Calvario participated in the Robert H. Lurie Comprehensive Cancer Center of Northwestern University Cancer Survivors' Celebration Walk & 5K alongside her mother and sister. The day was a combination of pride and thankfulness, and Calvario was awestruck at the strength of her mother and sister.

As Calvario reflects on her family's cancer journey, from oncology appointments, billing and medical records phone calls, outpatient chemotherapy and immunotherapy, all the way to watching both her mother and sister ring the gong in Radiation Oncology signifying their last radiation treatments, she cannot help but feel grateful.
​
"My family has been so fortunate to have been cared for at Northwestern Memorial Hospital," Calvario says. "The experience has reaffirmed my confidence in the hospital and shows that the care we provide is a real thing we are all invested in." 
* This article was originally published in "Your NM Connection."
Back to top