Reducing Cancer Risk among Chicago Fire Fighters
Last week, Lurie Cancer Center Director, Leonidas Platanias, MD, PhD, met with members of the Chicago Fire Department about plans to identify and reduce cancer risk for our firefighters.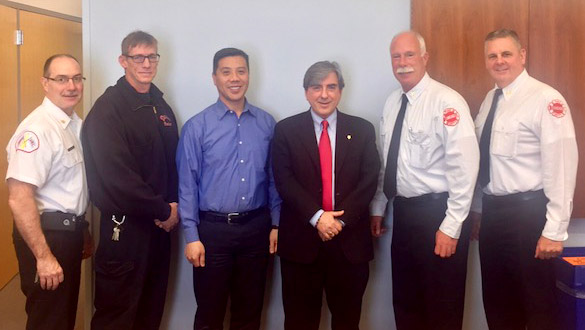 From left: Glen Lyman, Deputy District Chief; Brett Snow, Lieutenant; William Wong, MD, Medical Director; Leonidas Platanias, MD, PhD, Lurie Cancer Center; Richard Edgeworth, Deputy Fire Commissioner; and Donald Hroma, Deputy Fire Commissioner


In 2015, the Centers for Disease Control and Prevention released the final results from a multi-year study of firefighters from the Chicago, Philadelphia and San Francisco Fire Departments to better understand the potential link between firefighting and cancer.
The study of nearly 30,000 firefighters showed that compared with the general U.S. population, firefighters on average are at higher risk for certain kinds of cancer — mainly oral, digestive, respiratory, genital and urinary cancers. The CDC also found that firefighters who were exposed to more fires than their peers experienced more instances of lung cancer and leukemia. In addition there were more cases of certain cancers among younger firefighters.
Working closely with the Chicago Fire Department, Lurie Cancer Center investigators aim to better understand and address these critical issues. 
Back to top