Lurie Cancer Center Multidisciplinary Head & Neck Symposium

On November 10, 2018, founding chair Sandeep Samant, MD, welcomed leading experts from around the world to the Lurie Cancer Center Multidisciplinary Head & Neck Symposium. The meeting brought together more than 250 practicing clinicians to discuss and debate the latest advances in multidisciplinary therapies, clinical research and supportive care. Attendees traveled from 21 states and three countries to participate in the symposium on Northwestern's medical campus in Chicago.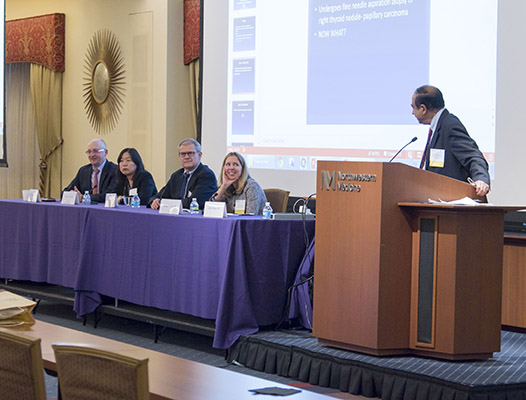 The program, organized into ten panel discussions, featured internationally-recognized experts who engaged in a dialogue with medical oncologist, radiation oncologists, otolaryngologists, head and neck surgeons and other professionals to improve multi-specialty collaboration in the treatment and care of patients with head and neck cancers. Given the increase in HPV-associated malignancies in recent years, two of the panels focused on oropharynx cancer. A third panel discussed risk stratification, radiation strategies for de-intensification, and the use of newer chemotherapies, and another focused on the new eighth edition American Joint Committee on Cancer staging for risk stratification after surgery, innovations in surgical technique and technology, and novel tools for minimally-invasive oropharynx malignancies.

Other panels covered topics related to larynx cancer, oral cancer, thyroid cancer, unknown primary cancer, and cutaneous malignancies in head and neck cancer. The program concluded with discussions about the role of immunotherapy in head and neck cancer, the future of head and neck cancer treatment, and complex tumor board cases on cancer of the paranasal sinus, nasopharynx, and salivary glands. 
Samant, who is chief of head and neck surgery at Northwestern Medicine, professor of otolaryngology – head and neck surgery at Northwestern University Feinberg School of Medicine and a member of the Lurie Cancer Center, worked with support from a multidisciplinary program committee to organize this meeting. The symposium, which is held every other year, marks another milestone of success for the rapidly growing head and neck program.