Kircher Named 2018 ASCO Health Policy Fellow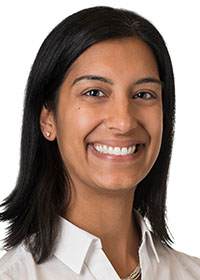 Sheetal Kircher, MD, Medical Director of the Cancer Survivorship Institute at the Lurie Cancer Center, will have the opportunity to shape cancer policy and gain valuable leadership experience as one of the two Health Policy Fellows selected by the American Society of Clinical Oncology (ASCO) for 2018-2019.   
ASCO's Health Policy Fellowship provides in-depth experience in monitoring and shaping cancer policy and the opportunity to build policy and leadership expertise. Over the course of the one-year program, Kircher will interact with policymakers at all levels, including Congress, state and federal agencies, key influencers in the private sector, professional societies, and other advocacy organizations. She will also collaborate on a mentored research project involving an ASCO policy initiative that directly impacts the delivery of cancer care.
Kircher is an assistant professor of Medicine in the Division of Hematology and Oncology at the Feinberg School of Medicine and a medical oncologist specializing in gastrointestinal malignancies at Northwestern Memorial Hospital. Her research interests are related to health care delivery throughout the cancer continuum, including long-term survivorship and the impact of cancer treatment costs on patients, health systems, and payers.
Having focused on clinical research early in her career, Kircher first became interested in health policy when she became an attending physician. "It wasn't until I started working with patients and seeing them struggle with the cost of their cancer therapy that I became knowledgeable about the policy aspect of cancer care. Part of delivering high-quality care is understanding the changing health care environment and the impact of cost -- on us as an institution and on our patients from a personal level."
"Sheetal is actively involved in our efforts to improve the quality of cancer care across Northwestern Medicine," said Leonidas Platanias, MD, PhD, director of the Lurie Cancer Center. "This fellowship will provide a unique opportunity for her to gain insights and in-depth experience in cancer policy and advocacy."
As a Health Policy Fellow, Dr. Kircher is looking forward to increasing her involvement in ASCO leadership opportunities, getting other physicians and ASCO members involved in health care advocacy, and eventually using her fellowship experience to improve health care policy in her community. "At this point in my career, I've been lucky enough to be involved in the process of policymaking at the local/institutional level," she said. "I'm looking forward to learning what that process looks like on a larger scale and being equipped to make even more impact."
Read more about ASCO's Health Policy Fellowship
Back to top