Running Hard Against Cancer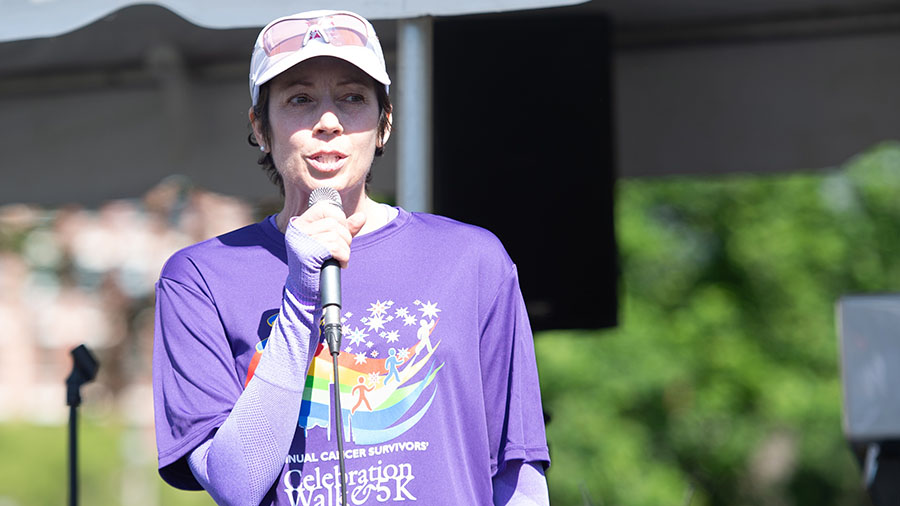 Leesa Drake is living proof that no matter how fast or how far someone runs, nobody can outrun a cancer diagnosis.
The 98-time marathoner was a paragon of perfect health until physicians shared the news that she had stage 3 breast cancer and would need chemotherapy and radiation after surgery.
Leesa is also proof that determination, tenacity and first-rate care can help you get through almost anything. She completed her 99th marathon in Chicago halfway through chemotherapy treatment at the Lurie Cancer Center at Northwestern Memorial Hospital with the support of her team of providers and friends. Northwestern Memorial Hospital, Lurie Cancer Center's primary teaching affiliate and clinical home, is ranked #1 in cancer care in Chicago and Illinois by U.S. News and World Report.
"Breast cancer has been a big curveball," Leesa wrote two weeks before her storied run in the 2017 Chicago Marathon. "Since my breast cancer diagnosis, surgery and early chemo treatments, I have gone back and forth in my head on whether I would be able to run this marathon."
Not only did she complete the Chicago Marathon, running with Team Lynn Sage, Leesa ran in the 25th Annual Cancer Survivors' Celebration Walk & 5K with her husband and son. This summer, she will run her 100th marathon in the Republic of Mauritius.
Thanks to the comprehensive care and team support Leesa received, she is clearly back on her feet and pounding the pavement harder than ever.  Leesa's family and groups of friends from different parts of her life were with her every step of the way. "I'm grateful for the people who made chemo days a little bit fun."
In addition to her team of physicians (surgeon Nora Hansen, MD; oncologist William Gradishar, MD;  and radiation oncologist, Jonathan Strauss, MD), a physician's assistant from the Lynn Sage Comprehensive Breast Center, Ethan Hixson, PA, was one of those people who helped Leesa get through treatment. "We had many conversations about surgery, recovery, chemo side effects and running," Leesa says about Hixson. "He was the first person who said that this breast cancer curveball may not sideline all my summer/fall plans."
Hixson gave Leesa personalized medical advice for training and performance during that 99th marathon, including extra hydration and increased caloric intake to combat the side effects of her ongoing treatment. And Leesa credits Hixson for challenging her to run, telling her, "If you are able to do the training and finish this marathon, it will raise the bar in my mind for what a patient with cancer can do."
Back to top