The Lynn Sage Breast Cancer Symposium: 20 Years of Advancements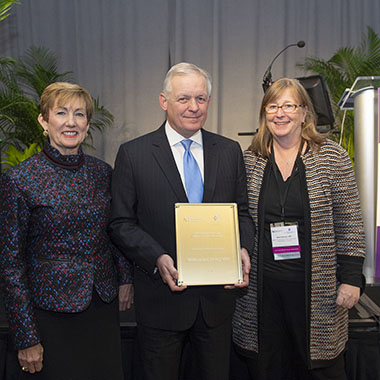 William Gradishar, MD, with Co-Chairs Monica Morrow, MD, Memorial Sloan Kettering Cancer Center, and Nora Hansen, MD, Chief of Breast Surgery, Lurie Cancer Center and Northwestern Medicine.  
"It is our 20th year – hard to believe!" In October, founding chair William Gradishar, MD, welcomed leading experts from around the world to the Lynn Sage Breast Cancer Symposium. Hosted by the Lurie Cancer Center, the 20th annual meeting brought more than 700 practicing clinicians together in Chicago to present, debate and evaluate state-of-the-art breast cancer treatment strategies.
Gradishar delivered the symposium's 2018 Distinguished Lecture, "A Frontline View of the Last 20 Years and Where We Go Next," addressing some of the significant successes and challenges in breast cancer research and treatment, particularly in the HER2-positive subtype. "Twenty years ago, we were just starting to appreciate that [HER2 positivity] was a distinct entity," said Gradishar, Chief of the Division of Hematology and Oncology. "We have seen an explosion of therapeutic options for patients that resulted in a completely different way that the disease is treated. Furthermore, it has improved the outcomes remarkably, both in patients with advanced- and early-stage disease."
Now therapeutic options for these subtypes and others of breast cancer have moved the needle forward. Some of the practice-changing additions he discussed are combination therapies, anti-hormonal agents, and checkpoint inhibitors. Gradishar, an internationally recognized expert on breast cancer management, is the Betsy Bramsen Professor of Breast Oncology in the Feinberg School of Medicine and Deputy Director of the Lurie Cancer Center's Clinical Network.

"From its origins 20 years ago, the conference has always been meant to educate physicians, who take care of patients in the community, on how they could take the new advances and how they would apply those to patient care," Gradishar said. "What the meeting has demonstrated is that in each of those domains, there has been a significant improvement that has resulted in a change in how we approach patients, not just compared with 20 years ago but even within the last year."
Read more in OncLive

Watch this OncLive video of William Gradishar, MD, discussing Personalized Treatment in Breast Cancer