Immuno-Oncology Clinical Trial for Salivary Gland Cancers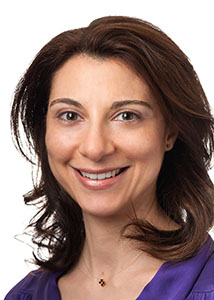 Lurie Cancer Center is one of only two institutions in the country, along with Memorial Sloan Kettering, to offer a new clinical trial specifically to patients with salivary gland cancers. Maria Matsangou, MBChB, is the Principal Investigator of NU 16N03: Phase II study of nivolumab and ipilimumab for treatment of metastatic/recurrent adenoid cystic carcinoma of all anatomic sites of origin and non-adenoid cystic carcinoma malignant tumors of the salivary gland (NCT03146650).
The immuno-oncology trial evaluates the efficacy and safety of the study drugs when given in combination for patients with this type of cancer. Another purpose of the study is to see which tumor markers lead to better results in participants treated with the study drugs. Nivolumab and ipilimumab work in slightly different ways to activate the immune system and help the body's immune system to work against tumor cells. The combination of these drugs is already approved by the FDA to treat advanced melanoma.
View study details and eligibility criteria here. For additional information, please contact Dr. Matsangou at maria.matsangou@northwestern.edu.
Back to top