Platanias Elected to Association of American Cancer Institutes (AACI) Board of Directors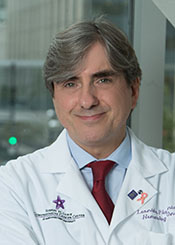 Leonidas Platanias, MD, PhD
, director of the Robert H. Lurie Comprehensive Cancer Center of Northwestern University and the Jesse, Sara, Andrew, Abigail, Benjamin and Elizabeth Lurie Professor of Oncology, was elected to the
Association of American Cancer Institutes
(AACI) Board of Directors. Comprised of 98 premier academic and freestanding cancer research centers in the US and Canada, the AACI is dedicated to reducing the burden of cancer by enhancing the impact of the leading academic cancer centers.
A key element of AACI's mission is to assist the centers in keeping pace with the changing landscape in science, technology and health care. They do it by gathering and sharing best practices among cancer centers, providing a forum for members to address common challenges and explore new opportunities, supporting initiatives that engage AACI members in developing specific recommendations to the NCI, and educating policy makers about the important role cancer centers play in advancing cancer discovery. The AACI also coordinates efforts among all cancer centers in educating Members of Congress and local officials about the cancer research enterprise and the positive impact cancer center initiatives have on patients. 
Dr. Platanias will join the Board, along with three other leaders of AACI member cancer centers, on September 30 at the AACI / CCAF Annual Meeting in Chicago.