NCI Director Visits Lurie Cancer Center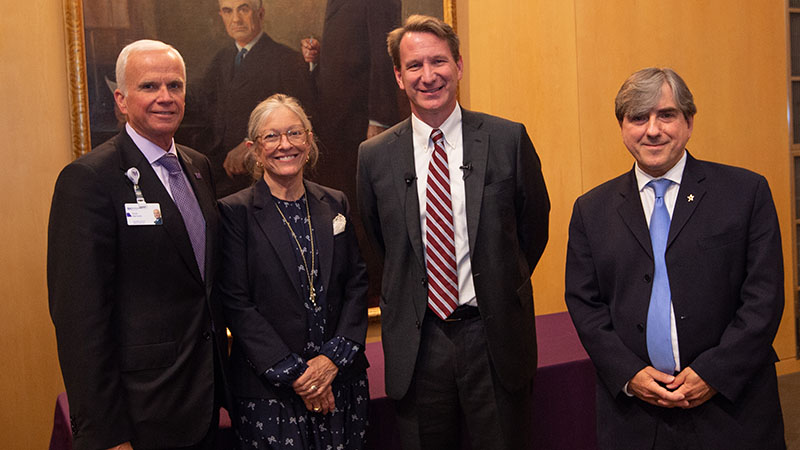 Dean Harrison, President and CEO of Northwestern Memorial HealthCare; philanthropist Ann Lurie, President of the Ann and Robert H. Lurie Foundation and President of Lurie Holdings, Inc; Dr. Ned Sharpless, director of the NCI; and Dr. Leonidas Platanias, director of the Lurie Cancer Center
National Cancer Institute Director, Norman "Ned" Sharpless, MD, visited the Robert H. Lurie Comprehensive Cancer Center of Northwestern University on October 2, one year after becoming the 15th director of the nation's principal agency for cancer research and training, and the world's largest funder of cancer research. At a presentation for the cancer center's faculty, students and staff, Sharpless discussed his research on "The Dynamic Interplay Between Cancer and Aging," answered questions, and talked about his vision for the NCI.
"The NCI is an enormous organization with many diverse programs and capabilities, some of which I didn't even know existed," said Sharpless. "A year is about how long it takes to start feeling like one understands what we do well, and where we can do things better."
He emphasized some areas that he believes can accelerate progress, including support of early stage investigators and enhancing opportunities for them to focus on doing their best research. "One of the most important jobs of the NCI, arguably the most important job of the National Cancer Institute, is to train a diverse group of scientists and clinicians for the decades ahead."  

A distinguished leader and innovator, Sharpless is widely recognized for his important contributions to the understanding of the relationship between aging and cancer, and in the preclinical development of novel therapeutics for melanoma, lung cancer, and breast cancer.
Before and after his presentation, Sharpless met with leadership, faculty and students from across the Lurie Cancer Center and Northwestern Medicine.  
"We are honored to host Dr. Sharpless on Northwestern's Chicago medical campus," said Leonidas Platanias, MD, PhD, director of the Lurie Cancer Center. "We have exciting plans for the future, and the NCI's support is vital to helping us expand our capabilities and advance our efforts."
The Lurie Cancer Center, one of only 49 NCI-designated Comprehensive Cancer Centers, recently received the highest rating possible from the NCI, an overall "exceptional," on the competitive renewal of its Cancer Center Support Grant.  In addition to receiving the highest rating in its history for the excellence of its research programs and patient care, Lurie Cancer Center received a near-perfect impact score of 12. Numerical scores are assigned on a scale from 10 to 90, with 10 being a perfect score. 
View more photos from the NCI Director's visit or watch his presentation below:
Back to top