Melissa Simon to Receive Award for Excellence from American Public Health Association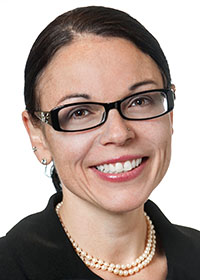 Melissa Simon, MD, MPH, will receive the 2018 Award for Excellence from the American Public Health Association (APHA). Simon is the George H. Gardner Professor of Clinical Gynecology, co- leader of the Cancer Control and Survivorship Research Program at the Lurie Cancer Center, vice chair for clinical research in the Department of Obstetrics and Gynecology, and director of the new Center for Health Equity Transformation in the Feinberg School of Medicine.
The prestigious national award recognizes Simon for her work as an educator, for creating a pipeline of diverse researchers in the field of cancer, for community engagements that address women's health issues across race, ethnicity and nationality, and as a physician scientist.
The APHA Award for Excellence is given each year to a living individual in recognition of his/her exceptionally meritorious contribution to the improvement of health of the people. It honors creative work of particular effectiveness in applying scientific knowledge or innovative organizational work to the betterment of community health.
The award will be presented November 13 during APHA's 2018 Annual Meeting in San Diego.
Read more 
Back to top