Navigating Through Cancer: The Benefits of Supportive Care
by Sandra Manley-Eichler, LCSW and Rebecca Ballen, LCSW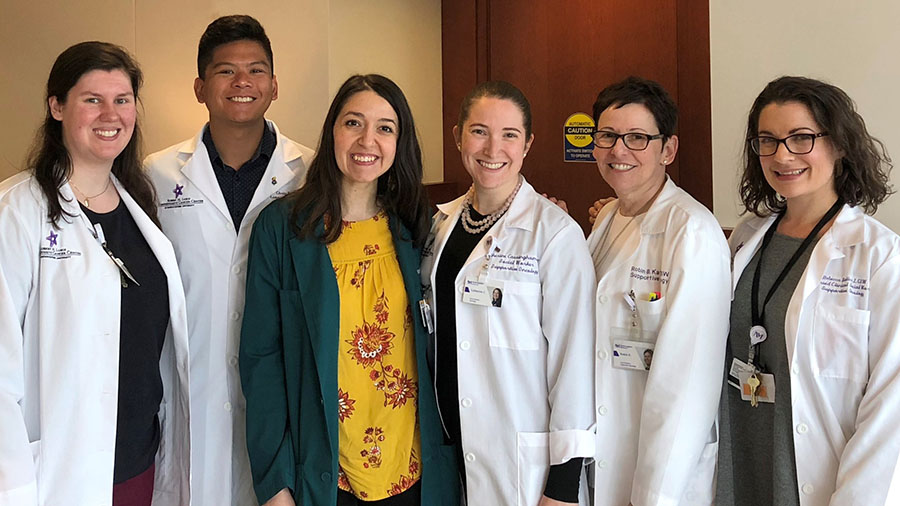 The Lurie Cancer Center Social Work Team
Support is a term that is often said to be beneficial, and one context in which the benefits cannot be overstated is when navigating through cancer (either your own or someone you care about).
Psychosocial support refers to finding ways to support the psychological, emotional, and social needs of an individual, specifically after a major life event such as a cancer diagnosis. Psychological support can include: education, mental wellness programs, psychotherapy, support groups, support from family and friends, and engaging in enjoyable activities. Research has confirmed the benefits of psychosocial support to effectively manage the impact of a cancer diagnosis.
Some tools that may help you cope with your experience include:
Conserve energy. Make time to rest, and find out what activities (and people) give you good energy. Listen to your body when you are feeling fatigued from treatment, and take a rest.
Find a routine that works for you. Cancer and treatment can have impacts on how we feel both physically and psychologically. Tracking your physical and emotional symptoms in a daily tracker can help to identify the routine that works best with how you are feeling.
Foster an attitude of gratitude. Amit Sood, MD, author of the Mayo Clinic Guide to Stress Free Living, acknowledges that gratitude is an effective way to reframe anxiety and depression, by changing the context of the triggers for these negative emotions.
Kick comparisons to the curb. Theodore Roosevelt said it best: "Comparison is the thief of joy."
Practice mindfulness. Multi-tasking is a thing of the past! When your calendar is a jumble of appointments, and when your thoughts have no direction, turn to nonjudgmental, singular thoughts. Join us at our next mindfulness course to learn more.
Find community. Seek out help at a local wellness center like Gilda's Club Chicago, or engage with a program like Lurie Cancer Center's Cancer Connections programs for cancer survivors and caregivers.
Take advantage of professional support. Our Supportive Oncology specialists have the experience and expertise to help you cope with challenges that can be unfamiliar to even the most supportive people in your life. Ask your physician for a referral.
Join our Social Work Team from Lurie Cancer Center and Northwestern Medicine at Gilda's Club Chicago for the Navigating Your Life with Cancer series, 6:00  – 7:30 p.m., Wednesdays, June 13 – July 18!
Back to top