25 Years and Countless Reasons to Celebrate Cancer Survivors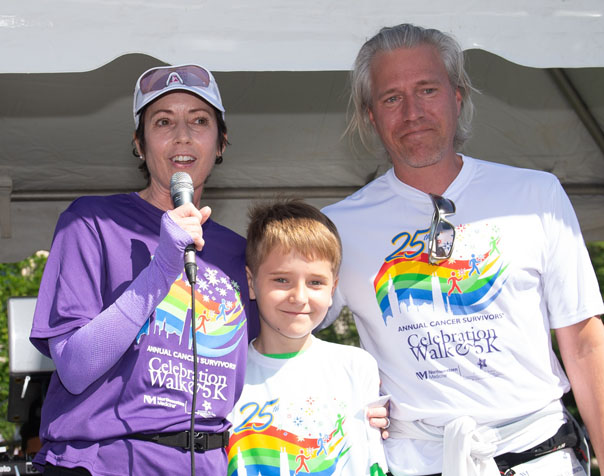 Leesa Drake and family
For 25 years, Lurie Cancer Center's Cancer Survivors' Celebration Walk & 5K has been a source of hope for people who have faced, or are facing cancer. On Sunday, June 3, 2018, nearly 4,000 cancer survivors and supporters, health professionals and scientists gathered in Grant Park — all determined to make a difference.
Blue skies and warm breezes offered the perfect setting for cancer survivors to connect with each other, celebrate milestones and recognize those who have supported them along the way. The morning was filled with music, entertainment, a picnic, and the opportunity to hear from some of our inspiring survivors who shared their stories on National Cancer Survivors Day.
Before starting the 5K race with her husband and son, breast cancer survivor Leesa Drake, described the experience of running her 99th marathon while undergoing treatment. "It made me feel a little fierce. I got a little choked up at the finish because of what this finish, in particular, meant to me." Read more about Leesa and the determination that keeps her moving forward.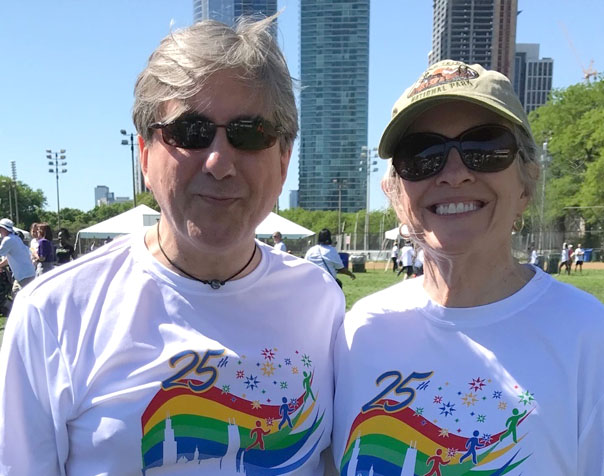 Leonidas Platanias and Ann Lurie
"It's great to see so many survivors," said Ann Lurie as she and Lurie Cancer Center Director, Leonidas Platanias, MD, PhD, welcomed the crowd.  "The more progress medical research makes, the more survivors we'll have.  And hopefully, someday, everyone who is diagnosed with cancer will be a survivor." 
"All of us share a commitment to improving the lives of cancer patients, now and in the years to come," Dr. Platanias said before counting down to start the walk. "Our goal is not only to have more survivors every year, but also to help people live longer, healthier, better lives."  View their welcome here.
A sea of purple (worn by cancer survivors) and white t-shirts filled the park as breast cancer survivor JoJo Harris welcomed back returning walkers. Chicago firefighter and lymphoma survivor, Patrick Jessee, explained why he "pays it forward" by sharing his experience and mentoring other cancer survivors.
Following a thrilling performance by the Jesse White Tumblers, cancer survivors gathered for the annual group photo.
Through your participation and fundraising efforts, the 25th Annual Cancer Survivors' Celebration Walk & 5K raised more than $317,000 to help physicians and scientists at the Lurie Cancer Center and Northwestern Medicine translate knowledge gained from research into life-saving new treatments and world-class cancer care. You can still support our efforts.
We'll see you in 2019 at the 26th Annual Cancer Survivors' Celebration Walk & 5K! In the meantime, view photos from our 25th annual event.
Back to top