Teen Cancer America Partners with Lurie Cancer Center to Expand Adolescent & Young Adult Oncology Program
Northwestern Memorial Foundation receives nearly $500,000 from Teen Cancer America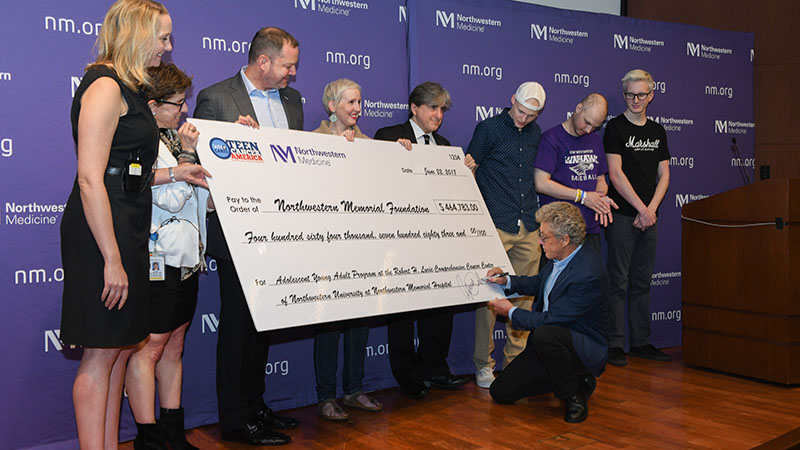 Teen Cancer America (TCA) has partnered with the Robert H. Lurie Comprehensive Cancer Center of Northwestern University to help expand the Adolescent & Young Adult (AYA) Oncology Program. The program, led by clinical psychologist Stacy Sanford, PhD, and oncologist, Jennifer Reichek, MD, provides specialized services and resources for young people (ages 15-39) at Northwestern Memorial Hospital and Ann & Robert H. Lurie Children's Hospital of Chicago.
"This gift will ultimately help us expand our existing efforts and provide us with resources to standardize the way we provide optimal cancer care to a vulnerable population across the pediatric and adult medical centers and in accordance with clinical practice guidelines," said Sanford, director of Adolescent and Young Adult Oncology at the Lurie Cancer Center. "Our aim is to strive for equitable, state-of-the-art, age-appropriate care for all AYAs treated at Northwestern Memorial Hospital and Lurie Children's. This will enable us to better contribute to the scientific base as well. Specifically, we will start by hiring an AYA navigator and program coordinator."
This new investment by TCA, will enable the AYA Oncology Program to make a significant impact on the lives of this unique patient population and develop a work flow that systematically reaches AYAs receiving care in both clinical settings. The program will focus on key standards of AYA care that include the following goals:
Coordinate comprehensive care for AYAs across the continuum of their cancer care, including long term survivorship
Increase age-appropriate psychosocial support for AYA patients, including peer support
Ensure all AYAs are offered appropriate education and options for fertility preservation
Improve access to clinical trials for AYA patients 
The Who's Roger Daltrey and Pete Townshend are the founders and driving force behind Teem Cancer America.  Having spent more than a decade working with Teenage Cancer Trust in the UK, Daltrey and Townshend decided to bring their passion across the pond in 2012, and make a difference in the lives of teens and young adults with cancer in the United States.
Teen Cancer America, Inc., is giving a gift of nearly $500,000 to Northwestern Memorial Foundation in support of the Adolescent & Young Adult Oncology Program at the Lurie Cancer Center. Often, young patients are caught between the worlds of pediatric and adult oncology, not quite fitting into either. This program expansion will help provide a unique home for AYAs treated in both the adult and pediatric clinical affiliates at Northwestern's Lurie Cancer Center.
Learn more about Teen Cancer America
Back to top