Women in Medicine
By Katie Scarlett Brandt, Chicago Health
Medicine has greatly evolved since male students at Geneva Medical College in New York first voted to admit a female student as a joke. When she showed up for class, the men were stunned into a "death-like stillness." But in 1849, that woman, Elizabeth Blackwell, became the first female to earn a medical degree.
Today, women are equalizing the medical school playing field in the U.S. — a major improvement since 1949, when only 5.5 percent of medical school enrollees were female, or even since 1974, when that percentage climbed to 22.4. For the first time, more women have enrolled in medical school than men, with women representing 50.7 percent of new students in 2017.
That doesn't mean the work is done. Chicago Health Magazine highlights four female leaders in Chicago medicine driving change to improve patients' lives, including clinical researcher, Maha Hussain, MD.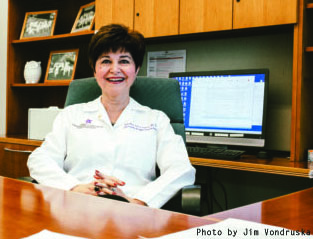 Maha Hussain, MD
As deputy director of the Robert H. Lurie Comprehensive Cancer Center of Northwestern University, Maha Hussain, MD, FACP, FASCO, has one primary hope: to cure cancer "no matter how, where or what type it is."
Hussain, who oversees cancer clinical research at the Lurie Cancer Center, found herself attracted to the field because of the opportunities to work directly with patients. "Deep down, I want to make a difference. In medicine, and specifically oncology, improving patients' outcomes and quality of life is a major priority."
At Northwestern Medicine, she focuses on prostate and bladder cancers — also called GU (genitourinary) cancers. She finds the field particularly exciting, because in some GU cancers, like testicular cancer, she can tell patients that they will be cured. In other GU cancers, life is being prolonged, she says.
"We're getting closer to transforming cancer from a killer disease to a chronic disease," Hussain says. "That's why clinical trials matter. To cure cancer, you need research. Clinical trials are where we establish new standards of care. Every day patients live longer, there's a promise of better treatment."
From the time she was in kindergarten, Hussain knew she wanted to be a physician. She grew up in Baghdad, Iraq, during an era when the culture encouraged academic success, regardless of gender, she says. Her medical school class consisted of roughly 30 percent women, and many of her professors were female as well.
As a woman in medicine, Hussain says she never "felt like I've had to fight my way through. I've been fortunate that even though the GU field has been mostly men-dominated, I haven't felt pushed out. If anything, my mentors or those who provided me with opportunities have been mostly men."
In addition to patient care, Hussain's work with the next generation of oncology researchers and clinicians motivates her. She and her husband left Baghdad for the United States in 1980, weeks before the Iran-Iraq War, and she hasn't looked back. Yet, she often shares with her mentees lessons she learned growing up in Iraq and training and living in the U.S.
"I was always taught that you cannot expect to be given things," Hussain says. "You have to champion what you want to do. Don't be shy. If you have an idea, express it. If you want to do something, say it. Be proactive, committed and have a leader mentality, but be a team player."
Read more in Chicago Health